Are you feeling rugged? Like just climbed a mountain rugged? Because let me tell you, I'm feeling pretty rugged. No, I didn't hike Everest or the Appalachian Trail. But my pointer finger really worked hard in my online shopping spree at Rugs USA. Ahh…it's all coming together. My ruggedness is actually a new rug I'm digging…let the pun eye rolling begin! I stand behind it.
Let's rewind to Cyber Monday where I found out about an amazing deal at Rugs USA: they were selling rugs at 75% off. Hark the herald angels sing! I knew that it was time to finally get a rug for the dining room in the Mego Cave. I found out at work about the sale and was just dying to get home and get shopping. Except sometimes I have commitment phobia when it comes to spending money, even if it is a super sale. So my night was spent literally scouring the site, trying to find the perfect rug. There were SO many amazing deals! And so little time…the sale ended at midnight. Under pressure! It was hard to pick one. So I narrowed it down to three, and then had my left-hand man come help me choose. He talked me down from the bold, bright blue (hello same color as my amazing free chair which would have been an overload) into a nice neutral with a super cool vibe. Ah team work.
Man, let me tell you. Wait for sales at Rugs USA. I scored a 6′ x 9′ rug for $129. And they ship free! It was pretty fantastic. So after a few weeks of patient waiting (I think they had a lot of rugs to ship), my rug appeared on my front stoop. Then I had to finish the mini-blind Roman Shade project before I could unveil the rug (since the test window shade that was up was right behind the table and I wanted to finish that project first so as not to ruin the shade surprise). So finally, after my many weeks of waiting and my many words of explaining (like only I have the talent to draw out an online purchase to three paragraphs).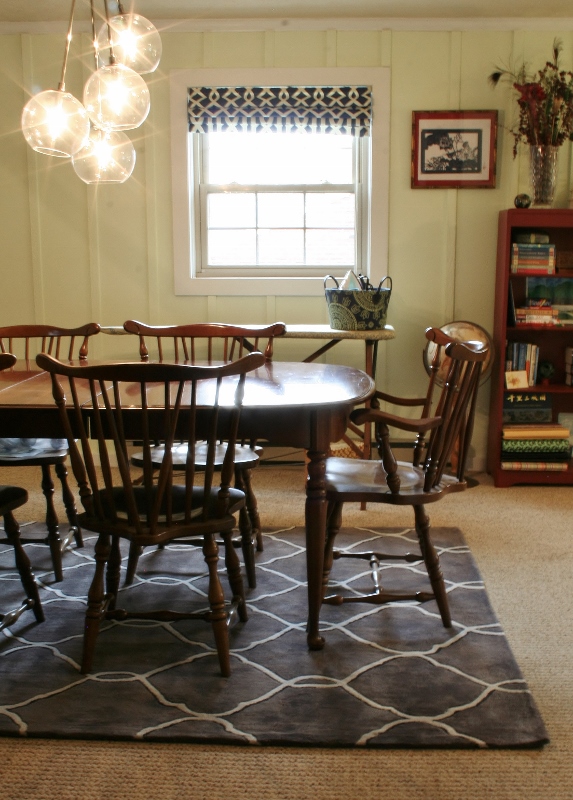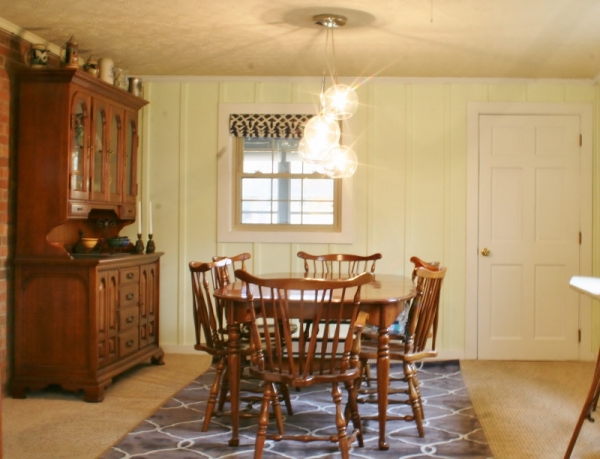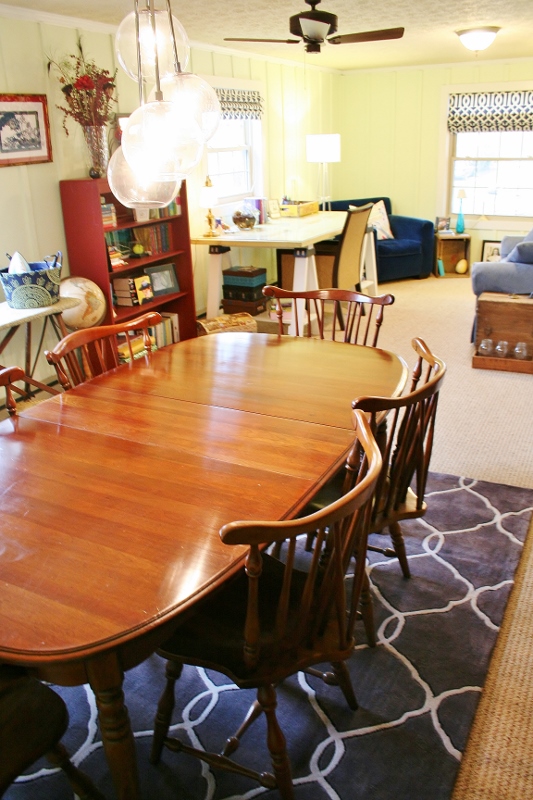 I love the simple and delicate design in this rug. I think it is a classic shape but with a modern twist. I know this pattern is in trend right now but I thought its simplicity would run the test of time.
Tip: In a long room that hosts different areas of use, use rugs to help visually indicate the areas are separate. It provides each space with more purpose but allows it to still be one open space. I have plans to put another rug on the other side of the room to help define that space more.
I also plan to bring more grey into the room to tie the rug into the whole space. I am mostly likely painting my door desk grey and have even been contemplating painting and stenciling this little side table.
Here's what it was looking like before the rug went down: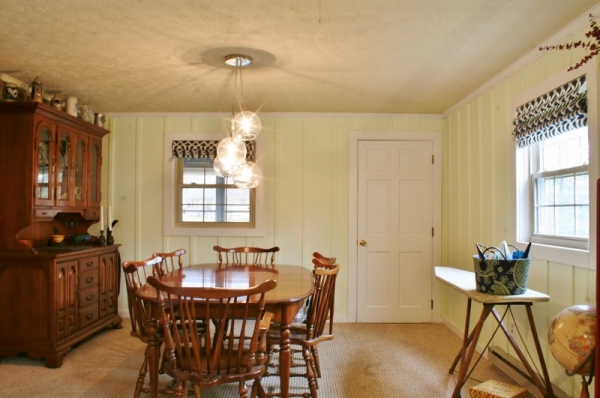 And now…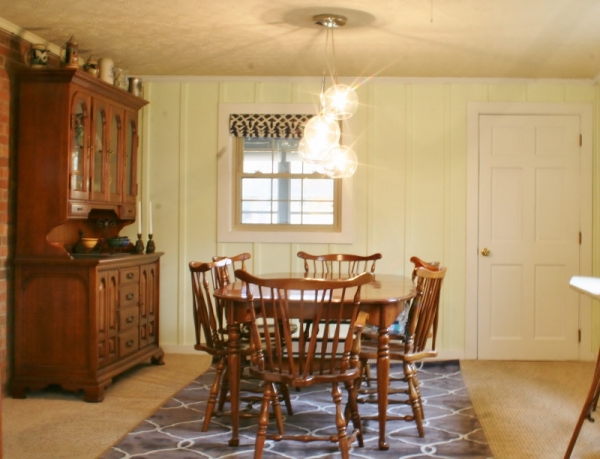 It makes me so happy to see how the pattern on the shade and the rug pattern really work well together. Two patterns, in harmony. Oh happy day, the room is coming together.
Wondering what else I have in store for the infamous Mego Cave? Let's throw out a project list:
Gussy up the china cabinet to modernize it while embracing its older look
Paint bookcase
Paint door desk
Perhaps paint side table and stencil it
Find rug for desk side of the room
Make a plate wall
Make artwork for the wall near the dining room table
Hang shelves in the corner about the chair
Find (or make?) ottoman
Paint the ceiling white (horror of horrors project that I'm not sure I will get up the guts to do)
So, even though it is really coming together, I have many more ideas for some finishing touches. Gah, I love this room! What's your favorite part so far? I think I love the rug/Roman Shade combo.
Sharing this on: