It's here! It's here! In my mind, I am jumping around like Will Ferrell in Elf when he hears that Santa is coming and starts yelling, "Santa! Santa! I know him!" Yup, this project was on the level of excitement for me as Santa Claus is to elves.  The day has arrived where I can (finally) share with you a project that has been a long time coming. When I say a long time coming, I am saying that the thought came to mind, oh probably two years ago, and the actual process started this summer. So this is the epic reveal of my new roman shades in the Mego Cave.
Let's take a look at the room so I can explain my logic of why I wanted Roman Shades.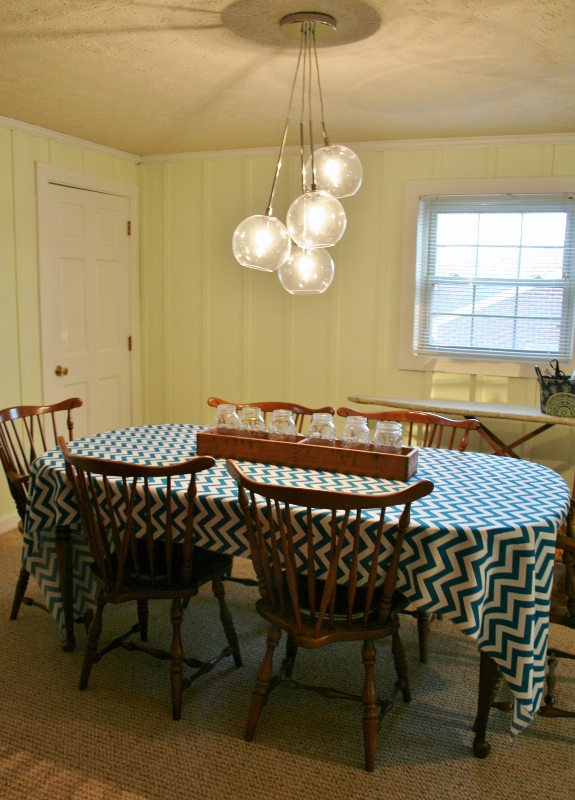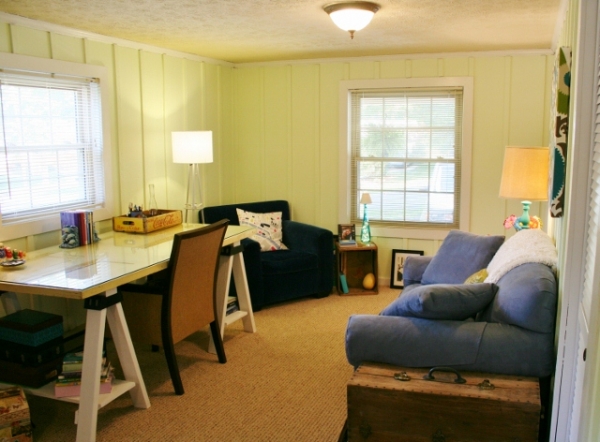 First of all, look at those wide trimmings around the windows. I love how they frame the windows out. They are just good looking to me. So I didn't want to cover them up.
Also, this room has weird paneling, which can cause some issues when hanging things. As you can see, the previous owners actually chunked out a section of the panel to assist in their window hanging needs. It drives me crazy, and I don't like taking chunks out of my wall, so I thought the perfect solution would be Roman Shades. They go in the window, showing off my pretty trim and no chunks are taken out of the wall.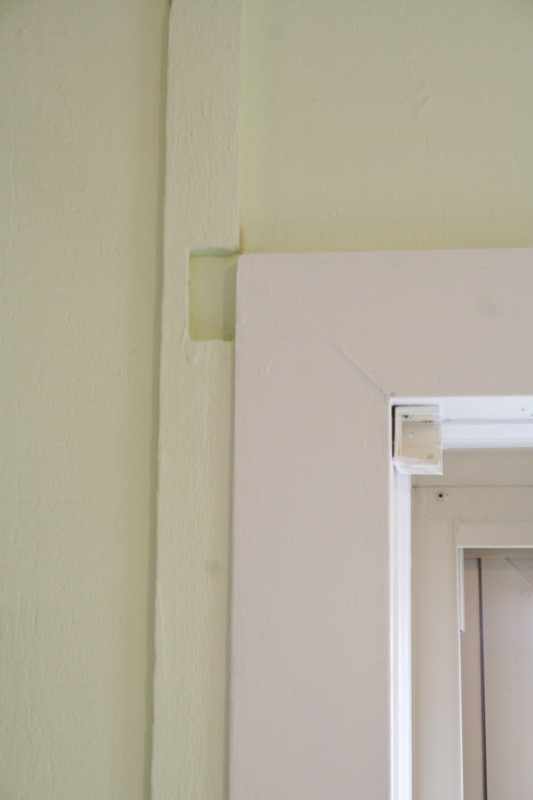 Decision made, Roman Shades. Yet, when I started looking around at buying Roman Shades, I was very disappointed. They were expensive. Like really expensive. They were boring. I couldn't bright colors, neat patterns, and anything modern looking except monochromatic stripes. Also, the windows in this room (count them – four!) were all custom window sizes. Up goes the price. So after lots of searching (over a year ago), this project just kind of went on the back burner….until this past summer when my mother-in-law moved back to town. Soon, she got me all excited with the idea that I could make them! As a master seamstress herself, she gave me confidence. So one day, in a fervor of excitement and "can-do" attitude, in conjunction with a super sale at a fabric store, I bought everything I needed to make the shades. Then, the materials sat there for months. It was a daunting project thinking about all the steps and sewing on all those little rings. After a few months of sitting on the materials, and then a painted Mego Cave later, I didn't even want to use that fabric anyone (there was a case of the green clash and I thought the material was a little old looking for the room). Sigh.
Until one day everything turned around. My mother-in-law came to the rescue again when she found awesome $5 a yard fabric (the same place where I got my five second tablecloth fabric). I knew it was perfect (and the perfect price). I had also honed in on a method thanks to two site tutorials that inspired me  to make Roman Shades using mini-blinds. Both Little Green Notebook and 365 Days to Simplicity had a tutorial on how to do this. It's like the heavens opened up, light shone down, and music played. I had found my method. I had my fabric. It was time to do this (picture a very determined Megan face). So I did it (honestly, over the course of a few weeks since I did one test shade and when it worked I did the other three). This process takes time, but it is actually easy. Be warned though as it is very time consuming and detail oriented. But the result is worth it.
So here is Megan's step-by-step guide to Mini-Blind Roman Shades:
Supplies:
One mini-blind per window
Fabric to cover the square footage of the windows plus a little extra for hems
Fabric glue (I used Fabri-tac and it worked like a charm)
Sewing machine or hemming tape
Yard stick
Scissors
Optional:
Step 1: Secure mini-blinds in your windows  (hopefully these are already in your house and you can use what you have). Measure your windows and buy enough fabric to cover the square footage plus a little more for hemming.
Step 2: Using the measurements of your windows, cut out the fabric. You need to add two to three inches to every side for hemming and attachment purposes.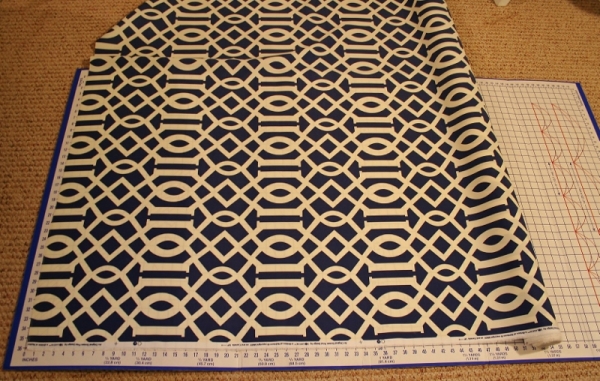 Step 3: I decided to hem the sides of my fabric with a real sewing machine (gasp!) but you can easily use no sew hemming tape here as well. I have even seen people just fold them over and glue the edges. I chose the sewing machine in my goal to be more sew-savvy. You only have to hem the sides of the fabric, not the top and bottom. The fabric should be the desired width of the shade. I used a nice big dimension board to measure out the fabric, chalk and a yardstick to measure out my lines, cut it up, ironed the hem (doing the double tuck to secure loose ends), and then hemmed a straight line down each side.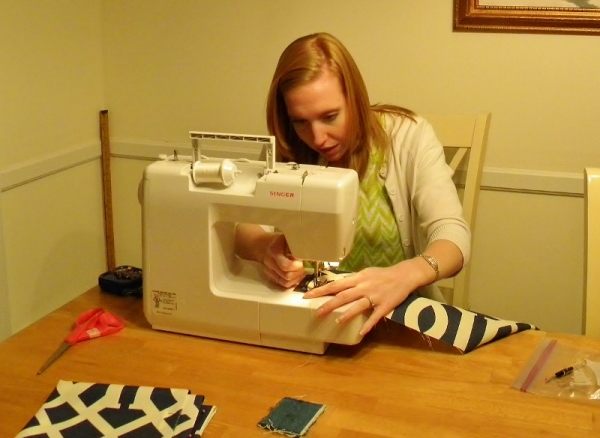 Step 4: Grab those mini-blinds now. It's their turn. Take them down from the window and lay them out on a flat surface. I used my big dimensions board throughout this whole process. It was a lifesaver! Carefully cut out the ladder. This is the smaller cord running through the blinds. Do NOT cut the thicker cord that raises and lowers the blind. Be very careful about this.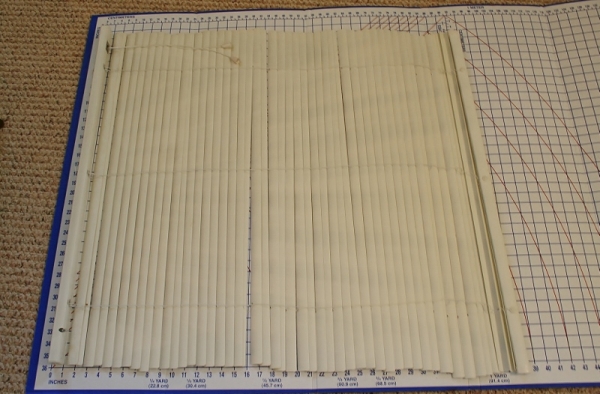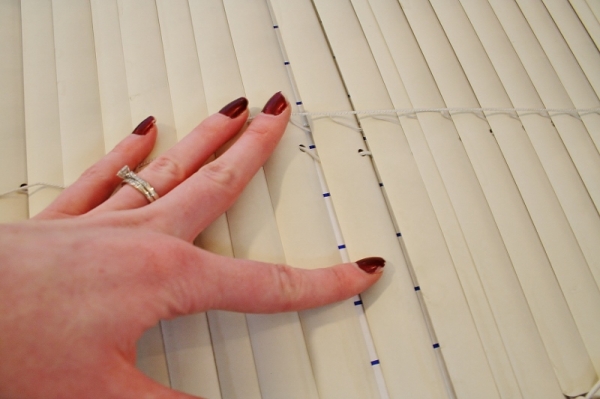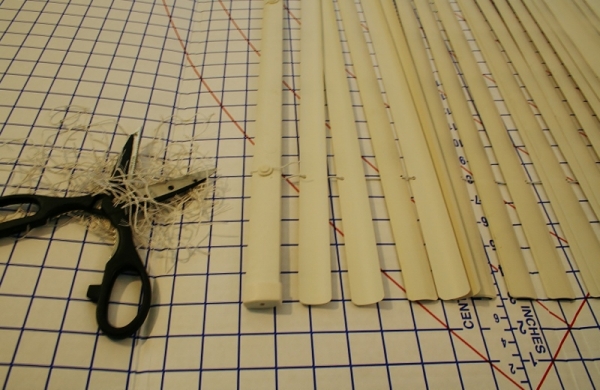 Step 5: Detach the bottom plastic piece by popping out the plastic tabs and untying the knot.


Step 6: Calculate how far you want every fold to be in your Roman Shades. The most common number is 9 inches between each fold, which is the measurement I used. You may want to change that a little based on your window length. You want them to be evenly spaced from top to bottom.
Step 7: Slide all the mini-blinds off except for the number you calculated in Step 6. You need one blind per fold, with your last one being the bottom plastic piece. Once you have the correct number of blinds, measure the cord to the length of your window, thread it through the plastic end, and retie it into a knot to reattach it to the bottom plastic part. I measured my cord and used a Sharpie to mark on the cord where the end length needed to be. This gave me a visual to use when tying the knot to secure it on the plastic bottom.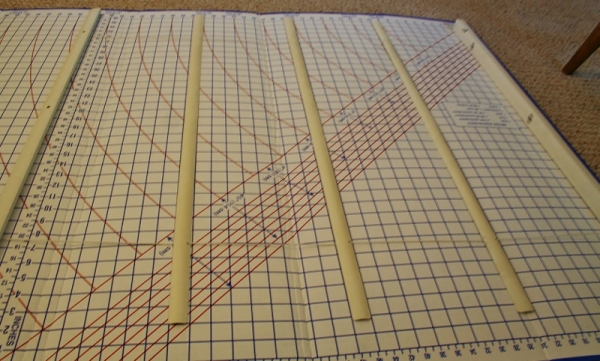 Step 8: Be very careful in this step. Lay your fabric face down on the dimension board. Then, lay your blind face down on top of it. Align the sides of the blinds with the width of the fabric. Make sure to leave 2-3 inches on the top and bottom to attach the fabric to the plastic top and bottom. Then, carefully lay out at the width you chose in Step 6 for each fold. Start at the top and work down from there. I laid a blind every 9 inches.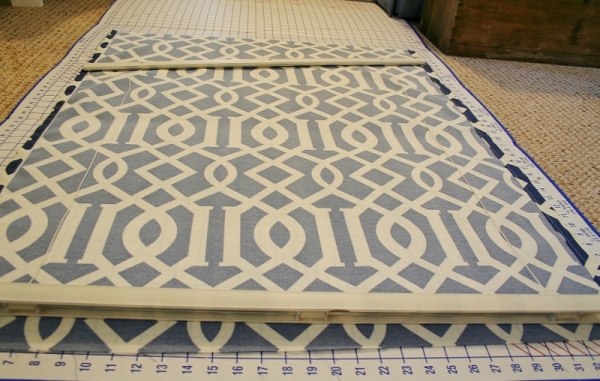 Step 9: Start gluing from the top down. First, wrap the fabric around the top plastic piece. Then, double check your measurements and glue down the first blind. Then glue the second blind until you glue down all the blinds. Finish by wrapping and gluing the extra fabric on the end around the bottom plastic.


Step 10: Now as much as you want to pick that baby up and slap it on the window, restrain yourself. Don't waste all your hard work.  Let it dry at least 24 hours to really make sure that glue is secure. Then, attach it to the window just like you did when it was a mini-blind. Now do your happy dance and pat yourself on the back.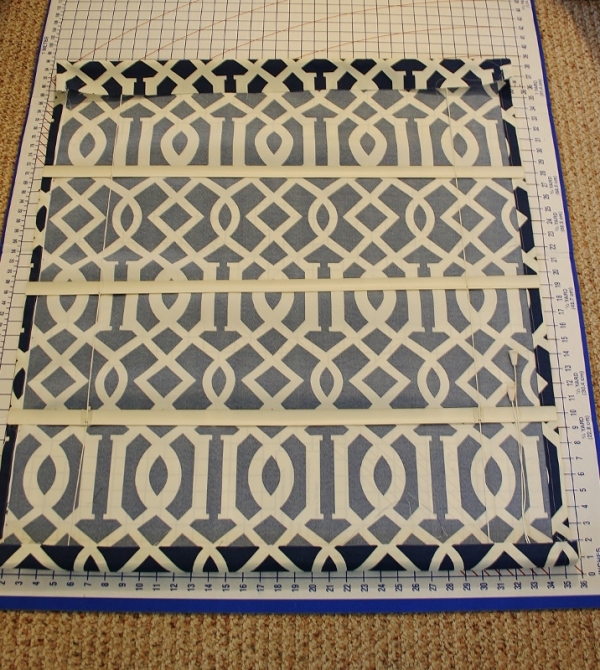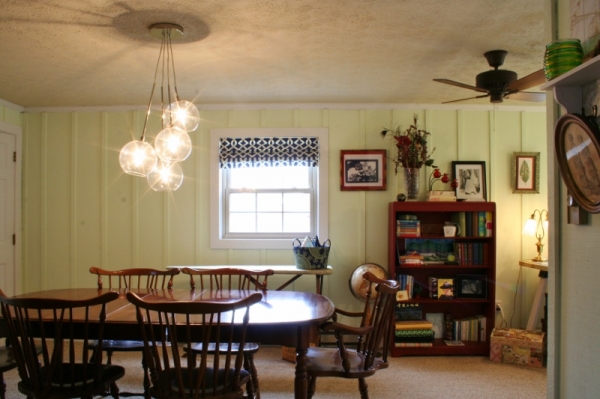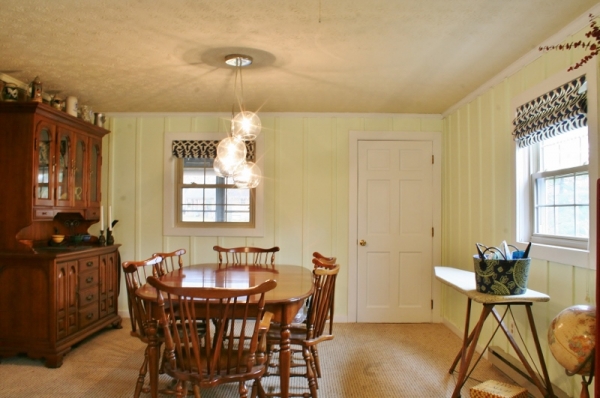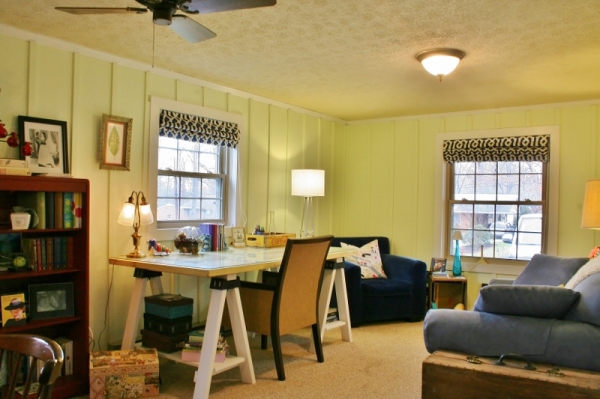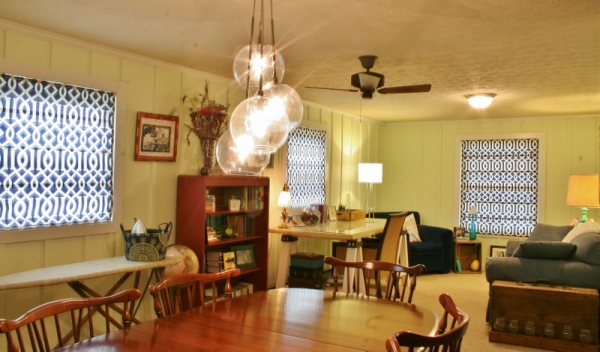 Tip: A seamstress once told me she likes to "train" her Roman shades when she first puts them up. All you have to do to have obedient Roman Shades is to pull them all the way up so they are completely folded. Work out any little buckles in the fabric so they are perfect and straight. Then just leave them like that a few days. This will help them know to go back to their fold every time!
Phew, this may qualify as my longest post. And perhaps my longest running project. Each shade took about two hours to complete from beginning to end. I like to triple check all my measurements…and that is basically all this project is: measurements.
Now for an amazing budget breakdown for my four custom Roman shades:
Fabric: $30 (I bought 6 yards and still have about a yard left for other projects)
Fabric Glue: $5
Mini-blinds: Already owned (thanks to the previous owner!)
Yardstick, chalk, dimensions board, sewing machine: All owned or borrowed
Total: $35
You want to scream a little with me!? THIRTY-FIVE DOLLARS for CUSTOM shades?! Yeah, it took buckets of time but for the cost savings it is unbelievable. You can't even find one Roman Shade for $35 (or maybe just a simple one). So after the years (literally – geesh!) of thinking, pondering, shaking in my boots, it's over. And I love it. And, the possibilities are endless. If I don't love it in a few years, this project is easy to redo. Sure, I may have to spend $15-$20 bucks on mini blinds (I don't suspect these would be reusable) but hey, that is still $50ish custom shades. This project feels so good to complete. I hear applause in my head. Or maybe it is just all the ringing from those darn measurements. Okay good people, if you are still with me in this super long post, it is time for me to say adieu and go stare at my Roman Shades. Maybe even raise and lower them a few times for a thrill.
Sharing this post here: