I just can't help  it. I got giddy on Sunday, and a little nervous, as I stood in line peering for a glance at blog superstars John and Sherry of Young House Love. But let me back up and give you the full story of my side of this little story. As you all know, I started the blog a little about a year ago when I really got into reading other people's blog. The bug just kind of bit me as I started surfin' around the net clicking from one blog to another. I've mentioned some of my friends blogs that inspired me to start my own blog, but there are also a few big time bloggers that fuel me when my tank feels on "E", wondering why I keep blogging when I feel like a drop in the bucket in the blogging world. Then, my Mom and Grandparents tell me how much they love it and that refuels me. What also helps refuel me is reading inspiring blogs, like Young House Love.
When you start looking into the world of blogs, specifically design/DIY/lifestyle blogs, it won't take many clicks to find yourself at www.younghouselove.com. So nevertheless, one day I found myself there and I can't help but go back almost twice a day (cause, yup, they blog TWICE a day Monday through Thursday and then once on Friday). Holy blog-oly! Once you start reading, you can't help but just kind of get invested. You might start reading because you want to learn about painting kitchen cabinets, but then one thing leads to another and you are reading twice a day. What keeps you reading? I'd say it is their skill and style, their let's give it a go and take a risk, and their complete honesty and openness with how they not only attack projects but approach life. After a few blogs, you feel like you are a guest in their home and are best buds. You really don't realize how rare it is to find in a blog and hard to achieve as a blogger. Who knew it takes skill to share yourself?! Not only that, but they are hilarious. I think there is pun lovin' and old school song references love from one blog to another.
So after all my blathering about how much I love and aspire to be like them in the blogging realm, I was of course so excited when they announced they were writing a book…and then that they were doing a book tour.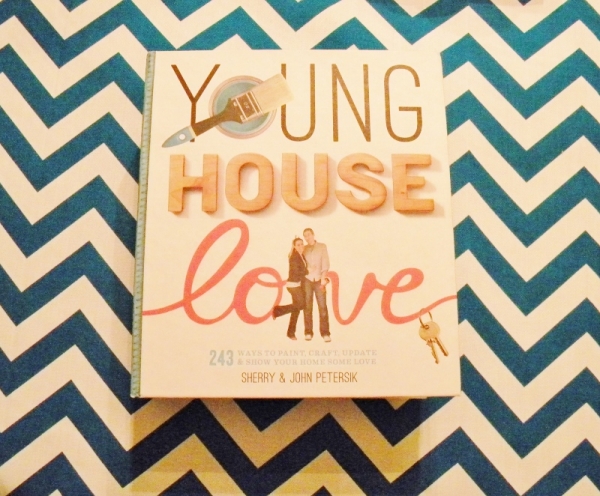 Did I mention they are Virginia locals in Richmond? It makes it even cooler to me to have them in my state. So I was all geared up to go to their signing in Richmond…until I found out it was on Eric's birthday. So picked my hubby over strangers (although, like I said, I feel like I know them), but I think they would probably approve of that decision. So I was a bit bummed but oh so happy to spend the day with Eric.  But then they announced another signing. Holla! On a Sunday (the other was on a Thursday – 5 hour roundtrip on a work night = hard to do). I was in.
So with book (or books since my friend Jen overnighted hers to me from Santa Barbara) in hand, I hopped in the Cube early Sunday morning (with a super awesome friend in tow who had no interest in the blog/book signing – she just came along for the ride), and we chatted our way down to Richmond. I had heard that the lines can get kind of insane, so I wanted to get a jump on the line. This is where we found ourselves at 12:15 (45 minutes to signing time).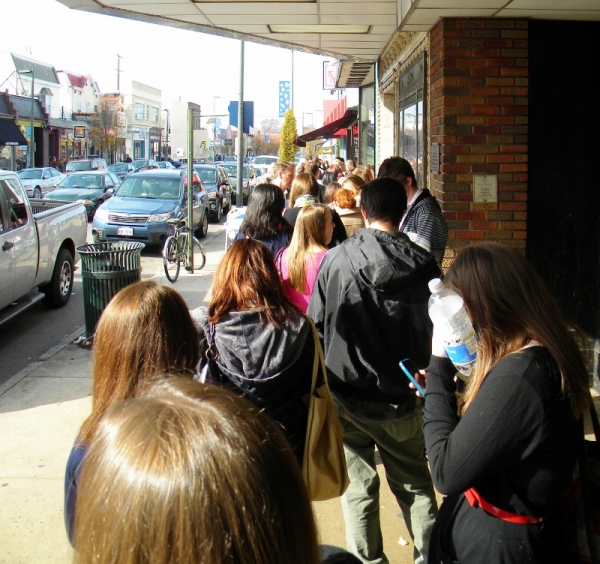 Not too shabby. I would say that there were about 70 people in front of us and by the time we got to the door of the store there were about 100 or more behind us. The store hosting the signing was Mongrel, a pet based boutique that just had the cutest little knickknacks, both pet related and not. It was definitely fun to browse in line.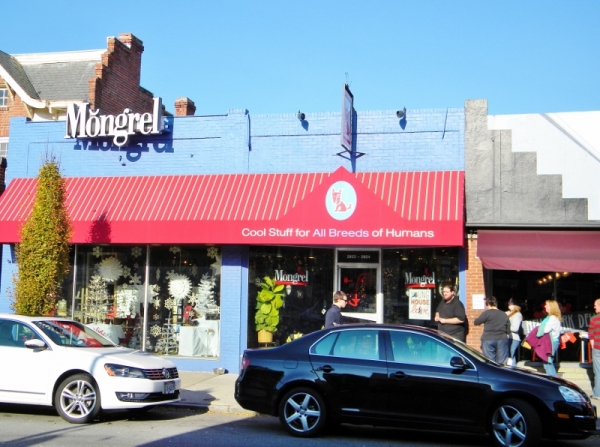 They let about 20 people in the store at the time (thank you 60 degree weather in December for the rest of the time) and this was me getting my silly/excited face on as we neared the table.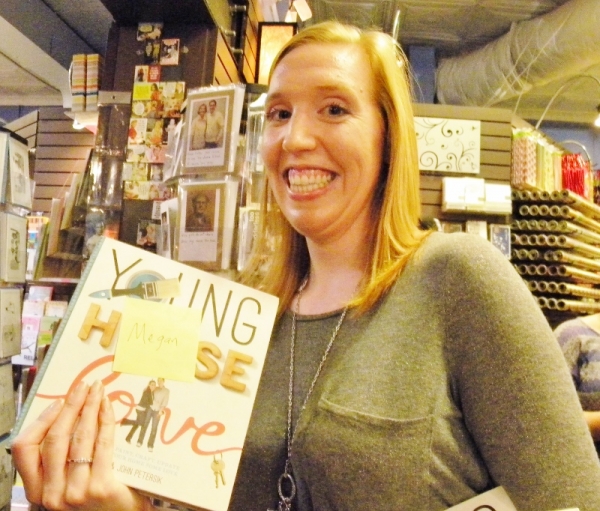 So close!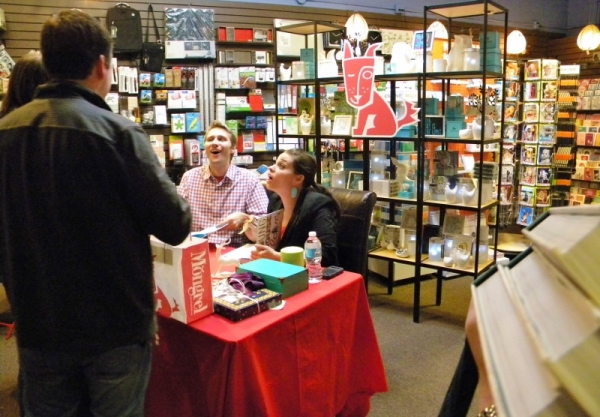 As we got closer I said to my friend (who had never heard of them before and was laughing at my silliness), "I have no idea what to say to them. They are just regular people – regular people who are super inspiring and my new role models in life, but how weird would it be to have strangers stand in line to say hi to you?!" Aaaand at that point my book juggling failed, and I accidentally threw one of the books a good few feet. At only a few feet away from them, I laughingly looked nervously at them as I said, "No offense! No offense!" At that time I knew my opening line to get them laughing. So up I walked to the table and said, "Hi! Just wanted to say sorry that I accidentally chucked your book across the store. Good news, it bounces!" Then they told me that was good, since someone at another signing apparently had a poorly bound book and when they dropped it, it completely just fell apart. Whew. Thank goodness it wasn't Jen's overnighted book!
This is probably me telling my awkward story/opening line. That looks like my "I think I'm funny face".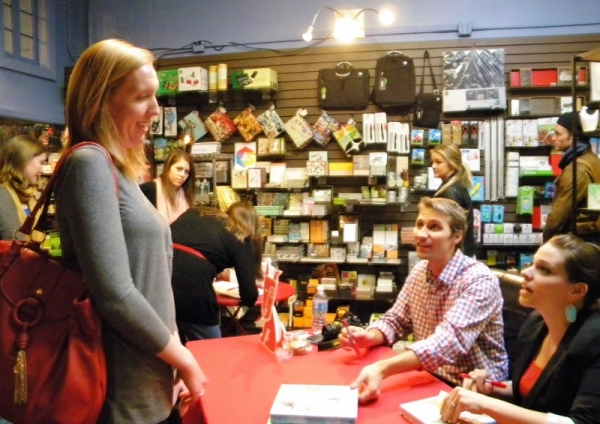 They were so fun to meet. Their personality that they emanate through their blog is just the same in person. Except you get used to seeing them in two-inch pictures on the blog, so they seem so much taller in person. They were nice in posing with grown women like me in pictures.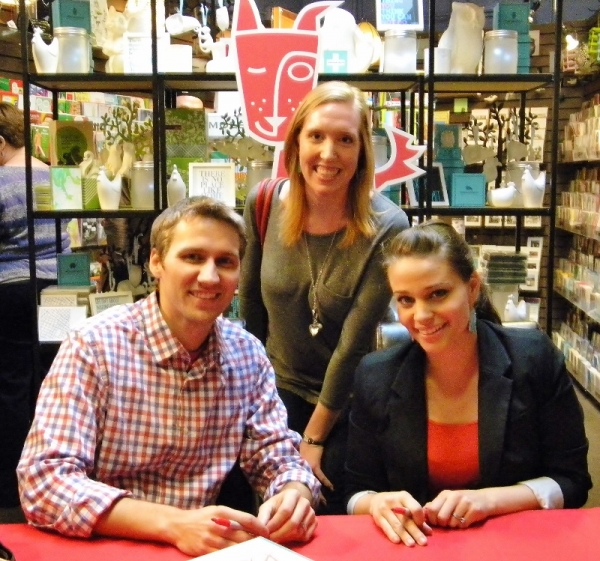 This is what happens when John writes the note…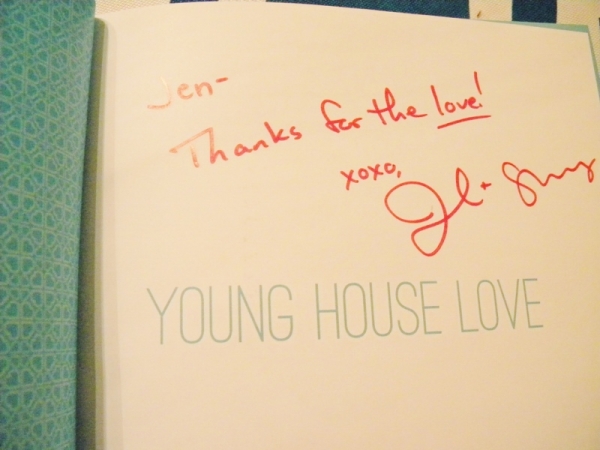 And this is what happens when Sherry writes the note!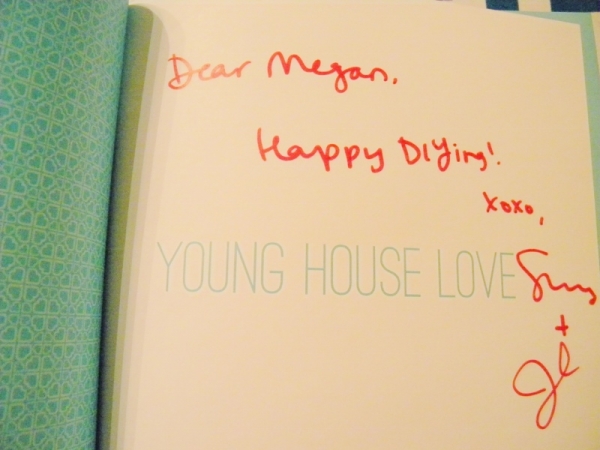 Then off I went to sign their book, which is really one of the coolest things ever! They got a sample of one of their books bound with blank pages. They now use it as their book tour "yearbook" and have us sign their book. Cause that's how they roll. And that's how my book signing experience went.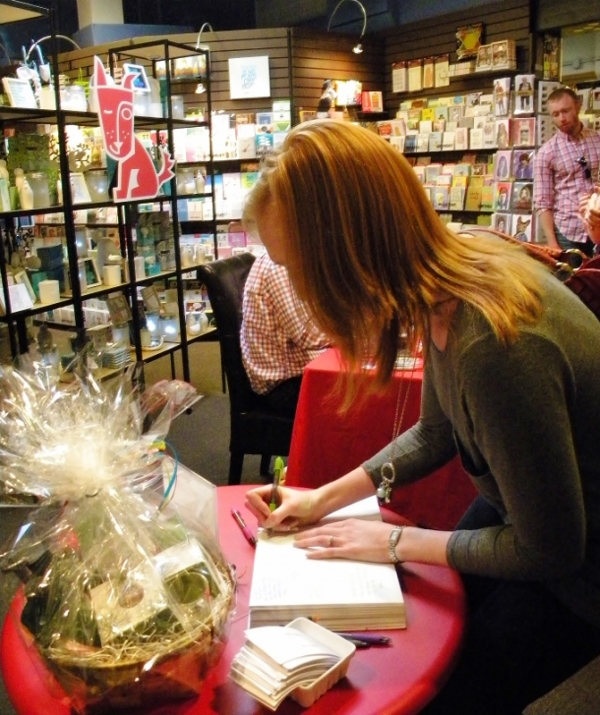 And then this happened. Completely unrelated but fun!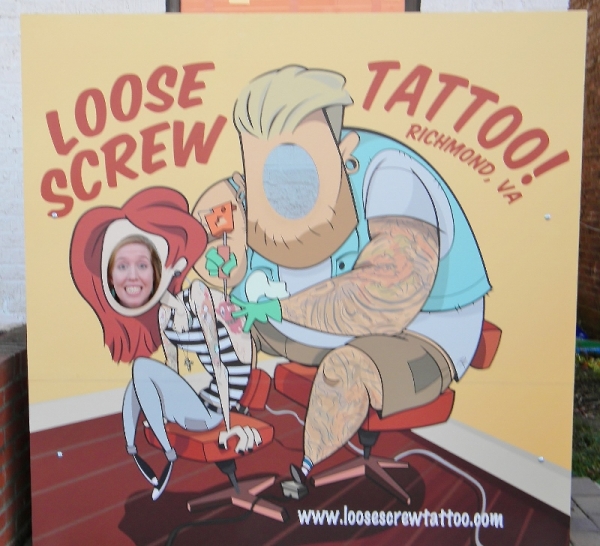 Anyways, to tie this all up, I had a blast meeting John and Sherry. Thanks to you both for putting out such a special blog that I look forward to reading every day. Getting to meet you in person just inspired me more to poor every little bit of me into this blog, come what may. As in the words of John and Sherry, thanks for the love and happy DIYing!
Update: Check out John and Sherry's version of this leg of the book tour on their blog. Plus, they give a shout-out to this post! Thanks guys!