I went and found my people, finally. My people of SEO and DIY all living in a place in la-la blog land that gathered together in Atlanta, Georgia for Haven Conference. Where they love to create with their hands, trying new ideas, and then writing about it to share to anyone who cares to read. To my people who get excited over power tools, fabric, tape, glue, and eye protection wear. This post is dedicated to you because it is so nice to know that my people are out there…and are actually alive (and dancing a DIY dance below).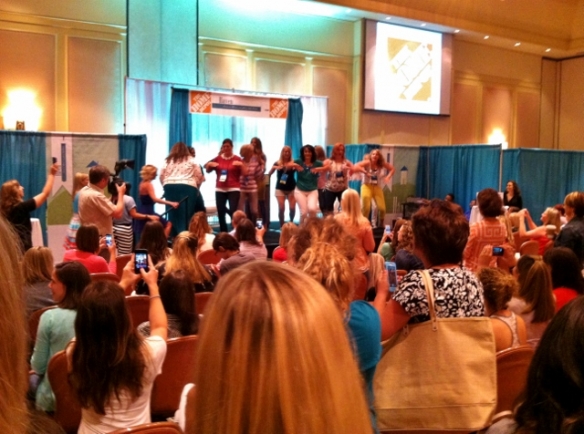 I read about them daily via my computer on their blogs, but to be able to actually sit face-to-face and talk bloggy talk for 2.5 days straight – well that's my kind of dream. It's also good thing I'm typing this because my voice sounds like, how did Eric put it "You sound like Mr. Ed". As in hoarse because I talked so much. Let's pause for the bad joke to sink in.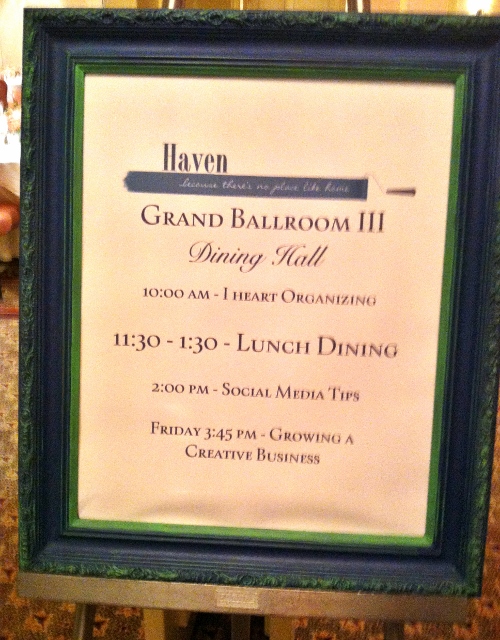 I could probably go on and on for posts about the Haven Conference, the people I met, and the things I learned, but since I know this would only apply to bloggers reading this, I will try to keep it to one post. I am also trying to give information that may be interesting and helpful to non-bloggers.
It Comes Down to the People
Making real connections with other blogging friends is the number one best thing that came out of Haven. At first I went there only thinking about the celebloggers that it would be fun to meet…until they were swarmed with people most of the time. I realized that the people I was talking with who had blogs more my size were the people I was connecting with the most. Not that I didn't talk with bigger bloggers and love them, but I was able to more easily relate to people at my stage in blogging. Those were the friendships that I plan on keeping throughout the year.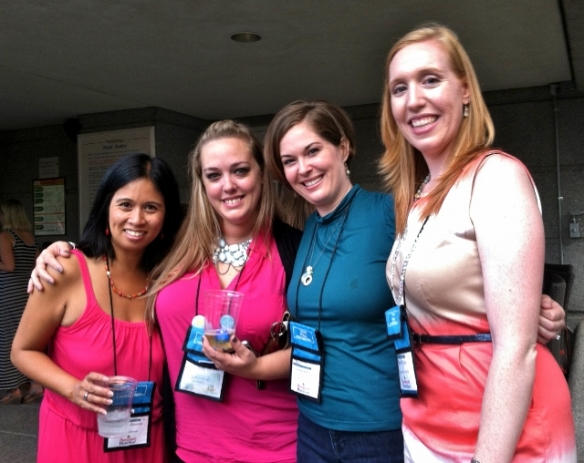 Debbie from Happy Clippings, Christina from Handmade Ocean, Anna from A Good Home

Jackie of Teal & Lime and Megan of Two Live Colorfully
I think this really hit home after I went to the session by Katie Bower (Bower Power) and Sherry Petersik (Young House Love) that was all about blogging friendship.

Their main point was not to do it alone but have your blogging buddies (or tribe as another session called it) help you learn, grow, and buoy each other. They are invaluable as you teach yourself through blogging and also in building relationships with brands and sponsors.
Prepare Yourself to Socialize…but Be Okay When You Don't
You have to go into a conference like this (350 attendees, 100 sponsors) knowing that you are going to be "on" and talking for most hours of the day. You will introduce yourself hundreds of times and made small talk with strangers almost every minute. You may even need to sell your brand if you are looking to network with sponsors. It can be exhausting and quite frankly scary.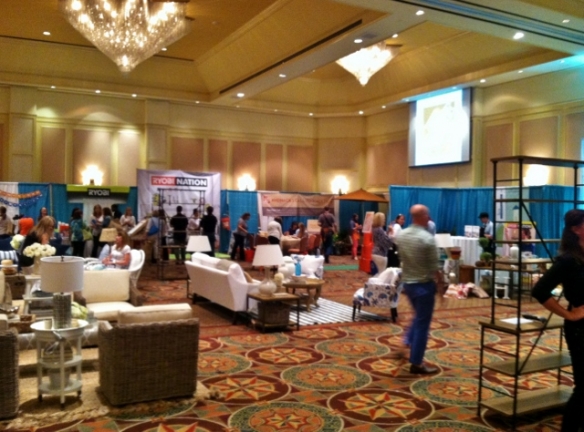 I know that for many walking into the first cocktail party that was teeming with people, none of which I knew, was quite intimidating. Thankfully I had given myself a pep talk and just kind of went in to the party at full steam. I literally stuck my nose into a conversation and just started chatting. It's just a cycle that repeated over and over again and it was fun but it is quite exhausting putting yourself out there like that. Some people you click with, others you don't. It's natural.

What's also natural is needing a break. As a "commuter" I wasn't staying in the hotel but at my Dad's so I didn't have a room to escape to every once in a while. Instead I stole a few anti-social moments of bliss. One time I just stared as this beautiful waterfall (please excuse my reflection in the glass).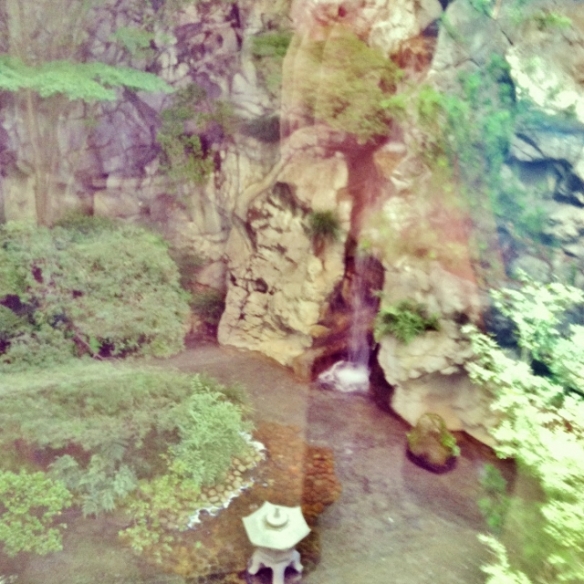 Another time I stole outside to get some Vitamin D. It's important to remember to recharge your batteries and take some "me" time, even if just for a few minutes.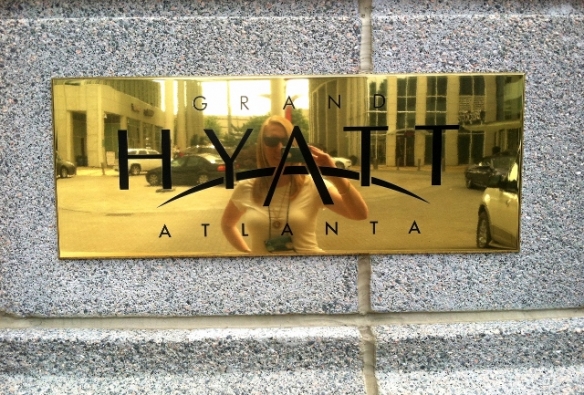 Don't Compare Yourself to Anyone (Embrace Your Individuality)
Being surrounded by so many amazing bloggers can be incredible, awe-inspiring, and at times intimidating. It can be easy to trap yourself into comparing yourself to the people there, what they look like, who they know, how they act, how big their blog is, etc. It's so important (why do I keep learning this lesson over and over again?!) to understand that you are uniquely you and no one can offer exactly what you can. That you are amazing and incredible in your own way.

So what if you blog doesn't do this or that (yet)? Give yourself time to let your blog grow and expand the way it is supposed to. You don't want a blog that's like someone else's. You want a blog that is 100% you and only you. You know that can succeed 100%.

It's Okay to Treat Your Blog Like a Business (That You Really Really Love)
These were words that I thought were forbidden to say, much like think. You talk to any self-sustaining blogger and they say they started their blog because they loved it and then in turned into their profession much later. Until Remodelaholic said that she started her blog as a business. It was a business she loved and was passionate about but she started it to be a money maker.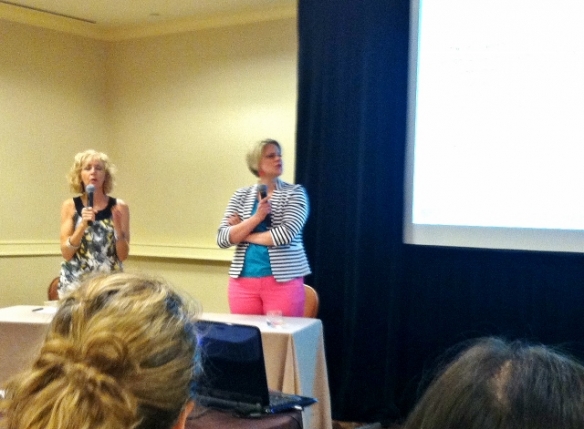 Rhonda from Southern Hospitality and Cassity from Remodelaholic
Wow! Someone said it. Yes, I love my blog; it's my passion and what I day dream about. But I'm also not shy to say that it is something that I would love to turn into a full time job that I can help support my family with. Knowing that it is okay to think about your blog as a business, your brand, allows me to also look at it with a more analytical, business savvy brain, just like I would at my real job now. That really puts things in perspective for me and I feel like I can attack my blog in a much bigger, better way now.
Take Nuggets (Or Notes)
Yes, yes, everyone knows to take notes at a conference. Yet I just realized how really valuable they are. You stuff so much information into your little bean head in just a matter of hours. There is no way to remember that, 350 blogger names, much less your own in the 48 hours of this conference. I just sat down and typed up my hand written notes and it's like I relived the conference inspiration all over again. So thanks to my notes, here are some nuggets I would like to share:
Try to do two of these in every post: educate, inspire, entertain, or reward (Ana White)
Be great at one thing. Be good at everything else. (Ana White)
Believe in yourself…and someday everyone else will have to. (Ana White)
Do good on a grand scale. (Bob Johnson with Habitat for Humanity)

I also learned lots of good facts and ways to improve my blog and those are all written down in my notebook to pour over later and implement slowly into the blog. That information is of course invaluable but probably available via a Google search. To me, sharing about the conference was more introspective; it was about growing as a person who can be a better blogger and the connections I made.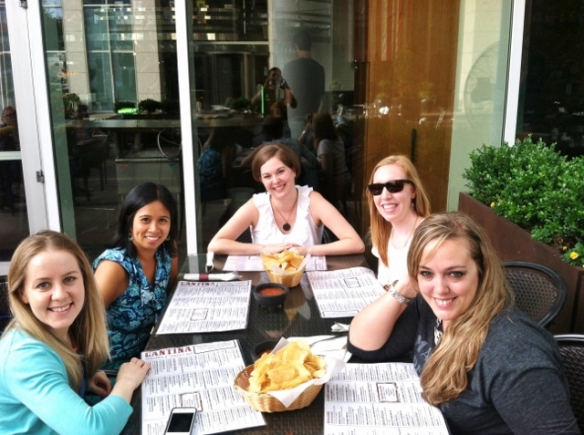 Jena (Involving Color), Debbie (Happy Clippings), Anna (A Good Home), and Christina (Homemade Ocean)
Thank you to one and all who made Haven possible for me – the organizers, the attendees, the sponsors, my family! See you next year!
PS – Yes, these are semi-grainy iPhone pictures. Bad blogger Megan! I decided to live in the moment, soak it all in, and not attend the conference to write a post. Hence the not so great pictures. You get the picture though, right?!