You can let out your breath now, as I am sure everyone else has been holding their breath like me. Now that the new light fixture is up in the Mego Cave, we can all breath easy. If you follow me on Facebook, you might have noticed a post I made a few weeks ago about painfully hitting the "Buy" button on a certain light fixture from West Elm. I had been searching and searching for the perfect light fixture to go above our dining room table in the Mego Cave. Before we get too far, let's take a look at what was there before.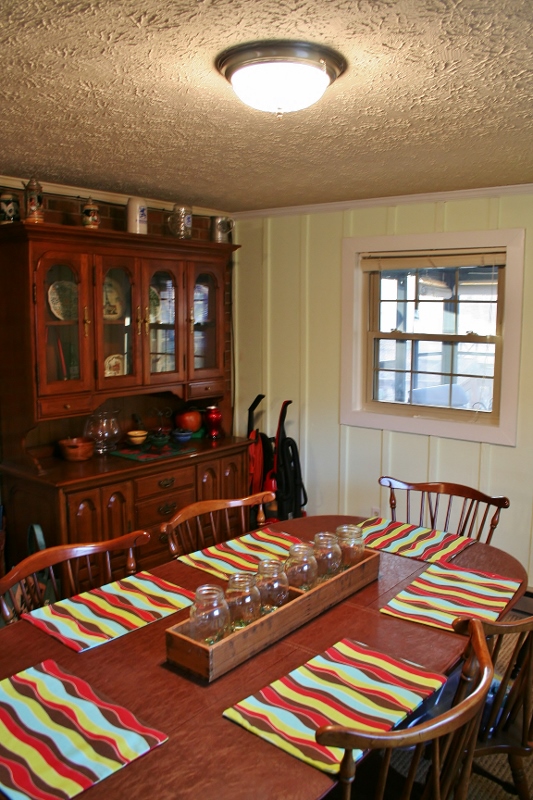 A whole lotta ugly. That's what. Just one of those old, close to the ceiling light fixtures that are a dime a dozen. Not only did it put off yellowish light, but it didn't complement a dining room, since it was set too high above the table. With a yellow orb high above the table there was no atmosphere for cozy dinners gathered around the table. Also, changing this up was just another excuse to make the house more personalized and to bring a bit o' bling into our home. Except, I tamed the bling down. Yes, that's right. I tamed my bling. Let's have a moment of silence to let that process.
Ok, here's the deal. I started off looking for a sparkling crystal chandelier. Except I couldn't find one that was hitting the spot for me. After endlessly looking at crystal chandeliers, I realized that I couldn't find the right one because crystal was the wrong choice. Crystal chandeliers can look modern, but they can also sometimes make a room look more formal and even dated. Living in a 1960's house, I wanted to bring a little more modern to the room. So instead, I compromised the bling and went for its modern cousin – glass! Perfect!  Except those type of chandeliers are a little harder to find. Searches for them mainly bring up crystal chandeliers.
Then I found Mr. Right. Mr, Modern. Mr. Perfect. Mr. Gorgeous. The list could go continue but I'll clean up my drool and get on with it. After a search through the West Elm website, I knew I had found the perfect light fixture. Here is the picture straight from the West Elm site.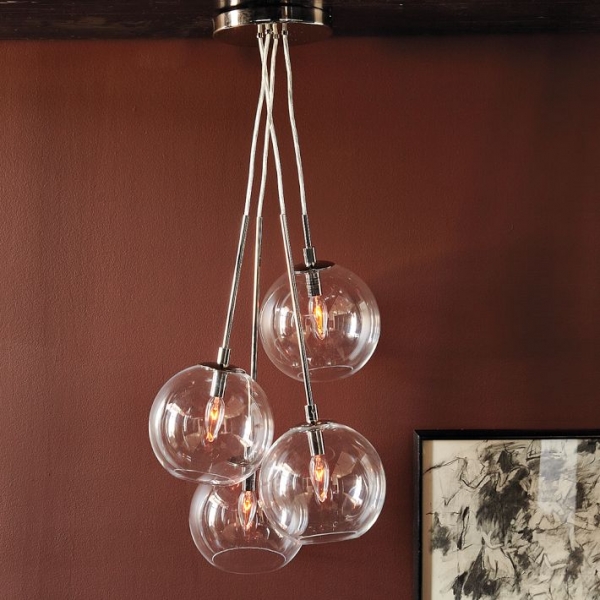 I had one concern. The size. Yes, yes I know that the site lists the size. I couldn't exactly figure out what the 7.8in. x 36 in dimensions really meant. Was each globe 7.8 inches? Or was that the diameter of the entire light fixture, meaning the glass orbs were small? I hemmed and hawed on whether it would look right or not. Since it was named a pendant, I thought perhaps that meant the whole thing was only 7.8 inches. That was too small in my mind for the room. Then, I got lucky. While I was up visiting my Mom in New Jersey (yup, I really have been thinking about this light fixture for a while), we ran into a West Elm store. Only, it was closed. But as we drove up I all but ran out of the moving car. There was the light fixture hanging in the window. And it. was. perfect. It just hung there all modern and glassy, and the exact perfect size. With a sigh I blew it a kiss and drove away.
Back home. Logged onto West Elm. Horror of horrors! It was on backorder! I was scared it was a backorder that led to product unavailability. I had been holding off buying the fixture until the holiday sales started, but I couldn't take the chance. So I hit "buy" and it hurt. As you know by now, I have a hard time paying much money for anything. I like to call it thrifty. Others call it different names. So that $200 price tag hurt. Then, I checked back on it a week or so later (when it was still in back order la la land), and it was on sale. After a few moments of intense anger at not waiting for it to go on sale, I calmed down and called the company to ask for my price to be adjusted to the sale price (down $40!!). Five minutes later I hung up and did my happy dance. Price negotiated! So there is a lesson in itself: many companies will adjust the price you paid within 1-2 weeks if an item goes on sale. Picture me as a happy, thrifty girl doing a silly dance. Cause that's what happened.
But enough talking, right? Let's get to showing! Let's just take one more look before this ugly light fixture comes down, down, down.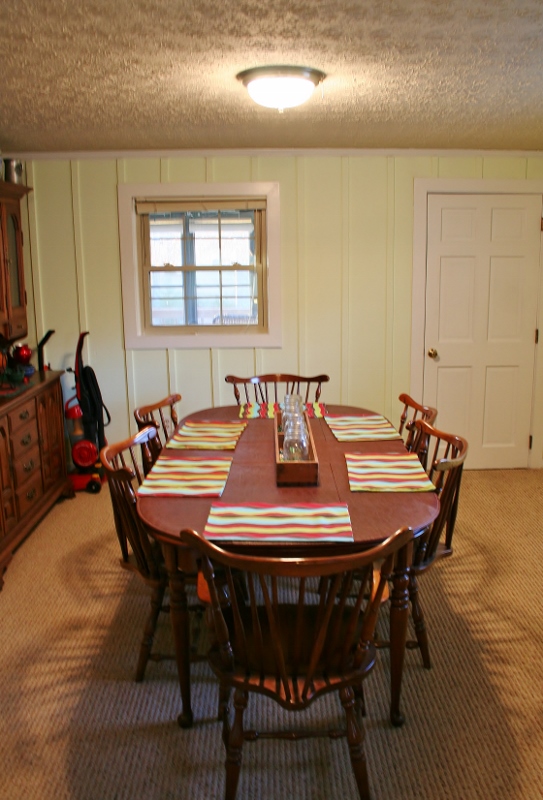 Then it was time to hit the breaker to the house, stopping all electricity to the house. Better safe than sorry. Then a few loosened screws later from my electrical man helper…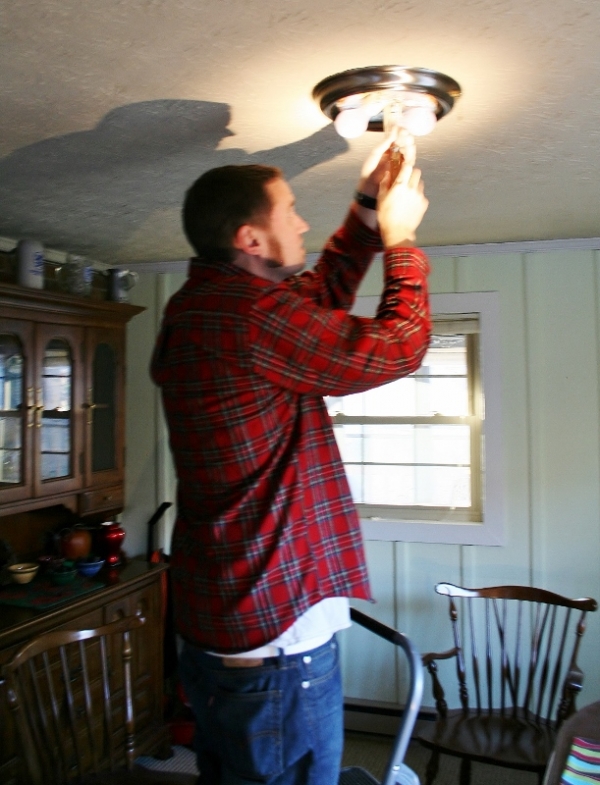 …we were ready to start putting up Mr. Hunky Light Fixture. Putting up light fixtures (without moving them like we did in the kitchen and bathrooms) it pretty easy. But it is definitely a two man job. One person has to hold the fixture up to the ceiling (insert a mental picture of Megan standing on a chair with her new light fixture being held above her head with arms shaking) while the other person attaches the wiring. It's actually pretty straight forward. There is a grounding wire that you normally just twist around the grounding screw (your light fixture instructions will show you this screw). Then there is a live wire and a neutral wire. They are usually color coded or labeled. Just twist the wires together, screw on the plastic cap, and wrap with electrical tape.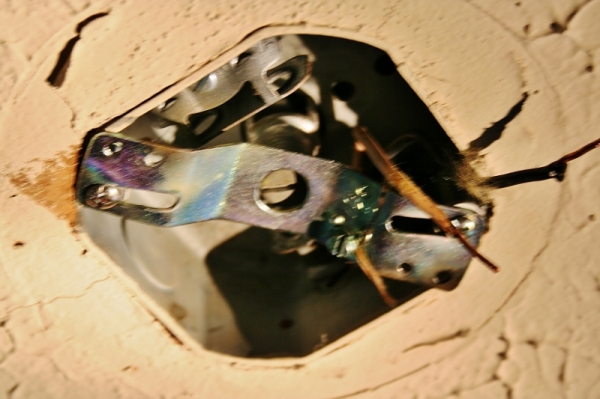 Then, just screw in your light fixture to the ceiling, do any other assembly required, and turn on the breaker. With bated breath, flip the switch. And then get nervous when one light bulb doesn't turn on. Then feel like an idiot who doesn't know how to screw in a light bulb (insert dumb light bulb jokes here). Then get excited when all the lights turn on after some light bulb adjustment. See, it only takes one redhead to screw in a light bulb.
Now, for the grand finale: perfection.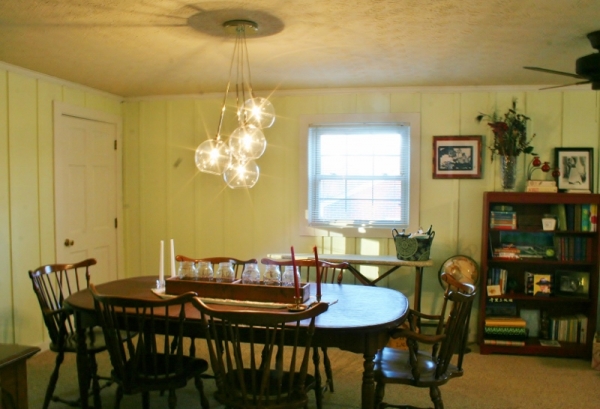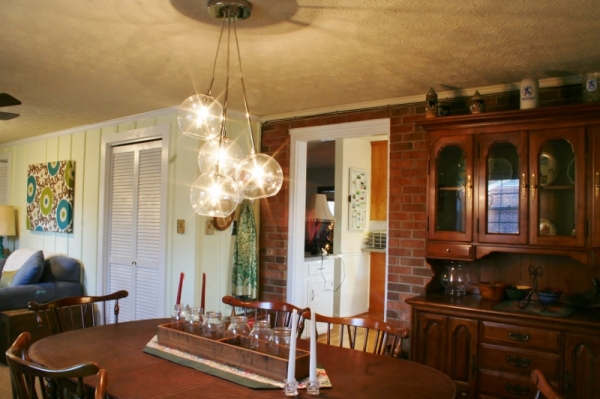 Phew. It was worth wading through my excited wordiness to see the result, eh? What do you think? Are you as in love with it as I am. Cause I just go into the room and turn on the light and stare. And sigh.
PS – Hope everyone had a wonderful Thanksgiving full of love and family. I sure did! I also had a 4.5 day weekend which was pretty much the best. thing. ever. Now back to work!