Remember back in the day (or maybe just two months ago) when our kitchen looked like this?

You can see the full old school tour here. Well, let me tell you folks, Mr. Kitchen is looking a whole lotta different now. I thought I couldn't be more excited than when the new countertops went in. Then the backsplash went up and a small cabinet reno happened and up spiked the excitement level again. Then, the other weekend happened and if I was excited before then there isn't even a word to describe my feelings when I walk into our kitchen now. Perhaps euphoria, awe, giddiness, the case of the happy dances…get the picture?
What brought on all of this? Lighting, glorious lighting. If people ever were to ever ask me if there were only one change to make to a house/room, my answer would most definitely be lighting. Lighting is king in my book. It changes the look and feel dramatically. It can also be done reasonably. So without further ado, may I introduce you to Mr. Kitchen. That's right, it's Mr. Kitchen because he's so stylish he deserves his own name (and perhaps talk show if I could work a deal).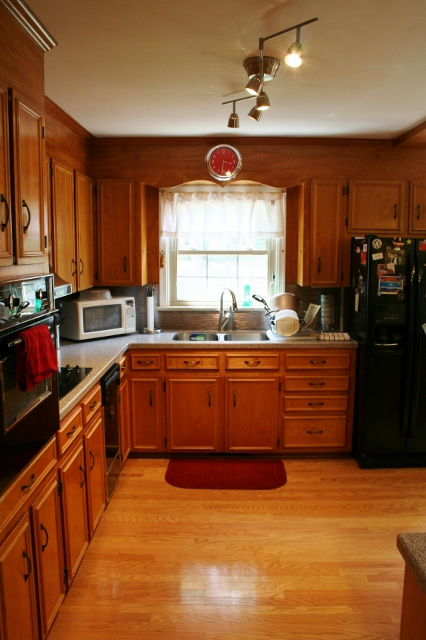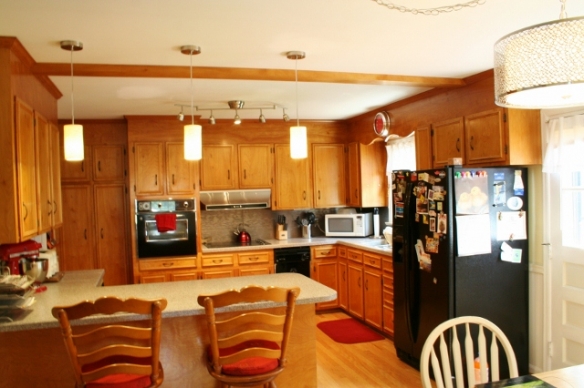 This is the result of changing out the old florescent light in the main part of the kitchen, putting in pendants over the bar, and swagging a new light fixture over the kitchen table. Hello new kitchen. It really shines a light on how awesome a kitchen it is now. Pun intended.
We love how the track lighting can be moved around to pinpoint once dark corners in the kitchen. Hello corners of our pantry cabinets I never saw before!

I have had my eye on this light fixture over the table for probably about a year now. At first glance I was a smitten kitten. I knew it would be perfect here. For me, the kitchen lights are all about texture and pattern. We wanted to set a pallet that could grow with the kitchen, subtle but elegant. I think all the lights together really did the trick.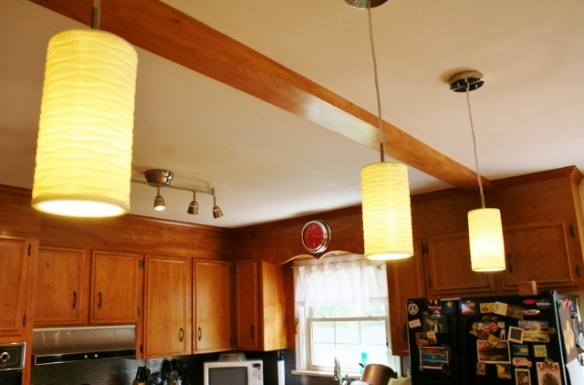 Let's be real though, the crown jewels are these little pendants. When I first saw them at the store I liked them but I didn't love them. They were a little dusty and high up on the ceiling in the store, so I couldn't see them perfectly. They did catch my eye though. Then I saw its fluttering price tag and before I knew it three just jumped into our cart! $17 apiece. WOW! The cheapest I usually see is about $40 a pop.
Check out how they perfectly mimic our backsplash. Ahhh, the continuity is breathtaking. With the brushed nickel finishes all around and the complimentary patterns, it is a room where Eric and I spend a lot more time in now. We just like to sit there and stare and also end up doing more projects in there.
As much as the light fixtures bring the room together, I also love how the pendant lights give a slight visual barrier to the room. The kitchen and eating area seem to have more defined spaces in the big open room. I think swagging the light fixture helped as well since the other small light used to just be centered on that side.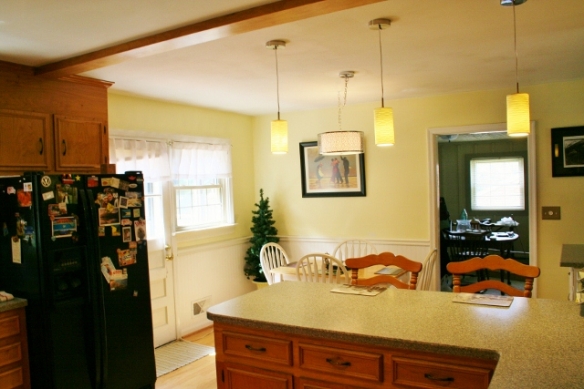 How did we go about doing this little job? Well, we picked out the finishings and let an electrician come work his magic. With installing pendants (involving running new wire, connecting to another line, and venturing up into the attic mid-summer), moving electrical boxes, and adding wire to a few light fixtures, we left this job to the pros. I at first wanted to do it myself, but am very glad we let our friendly electrician do it. Whew! Some things are worth it, especially electrical!
Let's do one more before and after to show the difference the lights make.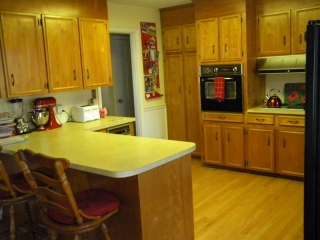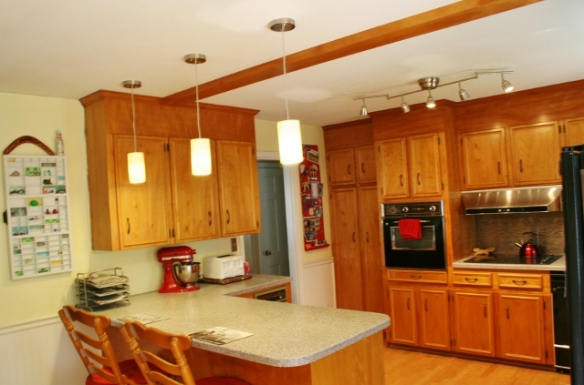 Look at that glow. It's soft, golden, and inviting. I completely embrace the warm look it makes, but with its golden hue it doesn't scream "Yellow Kitchen" anymore. You know that vote we had going on whether to paint the cabinets white or not after this little project? Team Megan was gun hoe about painting, but Eric and I made a pact to finish everything in the kitchen and live with it for a few months before making a decision. So glad we decided to do that. We actually love the cabinets now! It may not be everyone's cup of tea, but we actually feel like they don't look as old and dated now. The soft glow of the lights off the cabinets just highlight the beautiful wood grain and makes it a warm, inviting kitchen. Just what we were going for! So I again reiterate my house project advice, live with it first. You never know what you end up liking in the long run!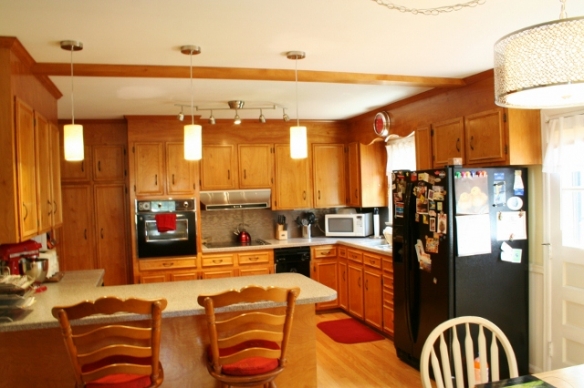 So where are we on our kitchen redo list? Let's review:
Paint pea green garbage compactor black
Paint yellow walls tan

Put up under mount cabinet lighting

(shown in this post and the back splash one)

Change light fixtures above the kitchen and eat-in kitchen area

Paint all hardware and hinges
So what do you? How are your votes now on cabinet painting? Yay or nay? Or any big projects that you have slowly been finishing this summer?