Happy Friday everyone! I'm so excited to share with you a fun little project I've been doing in conjunction with Hometalk. You may remember me mentioning them before when I did this Gorgeously Gilded Craft roundup for them last year, and I'm so pleased to say we've expanded our relationship.
Hometalk is an awesome social media network for all your home and garden needs. It is the largest home and garden social media network out there – and for good reason too. They have tons of projects that talented members post, plus you can ask questions and get really helpful answers.
When they approached me asking if I wanted to partner with them for a TV segment for Valentines Day, I jumped at the chance. That is how the DIY Valentines Tablescape was born and then pitched out to my local TV stations.
Thankfully our local station WSLS (NBC) has a great afternoon show called Daytime Blue Ridge that liked my project and invited me to join them this past Thursday to do a five minute TV segment.
The two hosts, Natalie and Jamie, were so fun to work with. They put me completely at ease, made me laugh, and were so excited about my project. We had a great time just chatting and crafting that I forgot we were even on TV.
Enough chit-chat – let's get to watching!
Yikes! That was a blast! Aren't those two women the best? Their enthusiasm was so catching. I could do that with them every day.
I also thought it would be fun to share a few behind the scenes pictures that I snapped on my phone while waiting.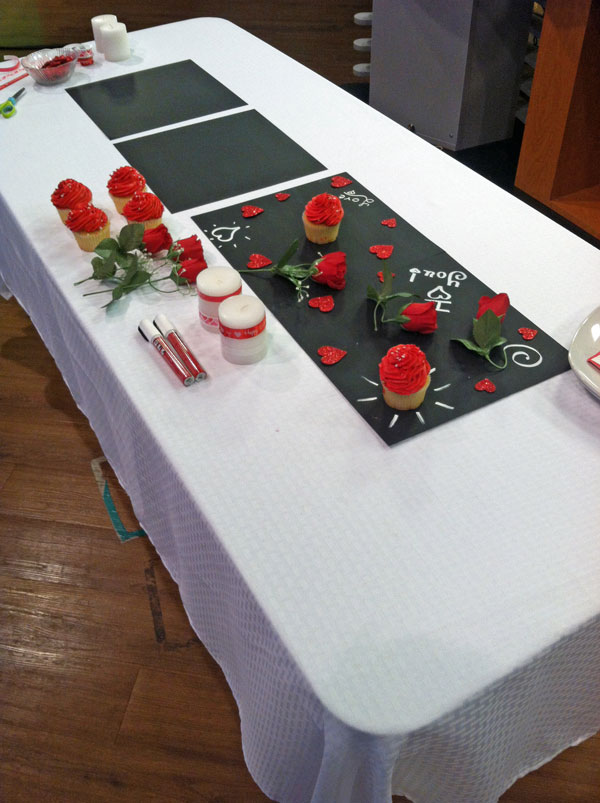 I was instructed to get to the studio a half hour before the show started at noon to allow me time to prep for my segment. This included me setting up parts of my table. I was instructed to leave off everything breakable since it would have to be moved to where we would actually film the segment later.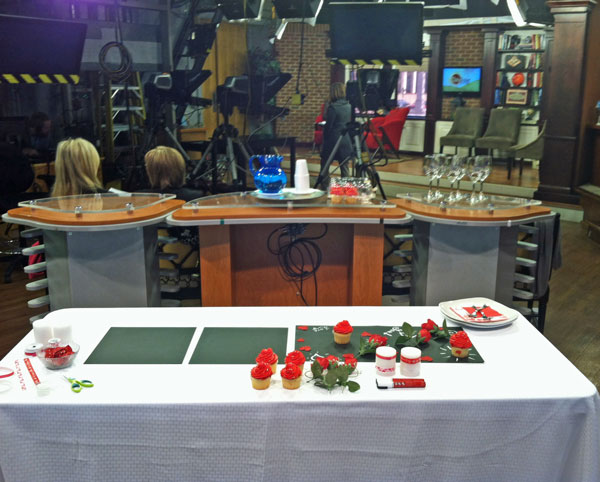 I had everything set-up as much as I could before moving the table. The table was set-up in a place where they film different shows and news. The red chairs you see in this picture was where we were actually going to be filming. They move around the studio for different segments and move furniture between every segment as well. I've never seen people use two minutes so well!

This part of the studio is where most of the show was filmed. Isn't a cozy little corner? The windows were at street level so it was fun that you could see people behind them while they filmed.

They did the cutest Olympic themed crafts with kids segment in front of the green screen  (a snow scene was actually seen on camera behind them). Then it was my turn so I turned from behind the camera to in front of the camera!
Well, there is my video debut for Hometalk my friends! Thanks for sharing in my fun five minutes of local TV fame!