Isn't funny that sometimes you don't know you have actually learned something? I didn't realize that I had "learned" (in quotes since I will continue to learn forever) how to decorate a house until I said the statement "The next couch we buy will be longer!" Who would have thought that one little statement would have stopped me cold and made me think about all the things I have learned throughout this house decorating process thus far, all 2.5 years. Since I realized that I have learned things, I thought it would be fun to share! I would also love for you to comment and tell me what you have learned too!
1. We're tall. Buy a long couch. And other couch lessons. Might as well start with the catalyst! The couch in our living room was the first couch I have ever picked out. I remember the day clearly. We had been shopping around and looking at couches, but then buying day came. I had no real thoughts of what the room would look like as a whole (it was completely empty at this point). Eric and I really just went out and picked out the couch. Easy as 1.2.3. Now, however, there would be more thought. First, I would think through the lines of the couch. Modern and sleek? Overstuffed? In-between? Then, I would think about the material. Leather? Cotton? Microfiber? Make sure to think about how messy the people/kids/animals are in the house! Then I would think color. Light? Dark? Tan? Trendy? Patterned? Finally, think about the length! How many people do you want to fit on it? How do you usually "use" a couch? Eric and I both like to stretch out on a couch while watching a movie or napping. Most nights Eric sits up while I snuggle up into his side and stretch out. All these things are not as comfortable if you are tall. Too tall to stretch out on the couch. So people, don't forget length!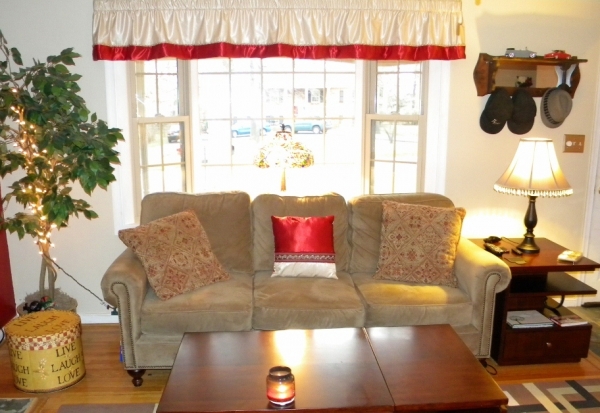 2. Don't buy filler furniture. I'm cheap. Like really cheap. Any purchase over $10 usually has me over thinking it and generally talking myself out of buying it, unless essential (even then, I procrastinate on buying essential things). So when it comes to buying items, sometimes my eye is swayed by a deep discount. I am completely guilty of sort of but not really liking something until I see a low price tag. Magically, I love it…for a short period of time. After the initial glee at the checkout counter, I don't really remember how much things cost. I only know if they work or not in a space. After having some filler furniture in the house, I am now a hardcore saver. If I'm going to buy something, I am going to buy something nice, high quality, and worth it. Therefore, I am most likely going to be saving up for it. So. Worth. It. The saving is almost half the fun. The lesson in this one? Plan ahead and save so you can really buy things you love, not cheap fill-ins. In this room, a cheap-o bookcase works for the space but isn't special.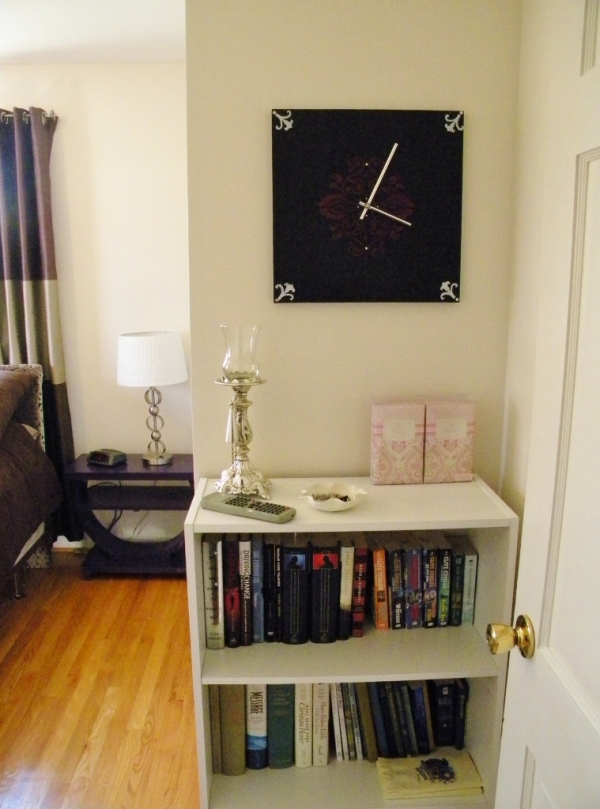 3. Paint samples, paint samples, paint samples. Can I say it one more time? Paint samples! At this point I have pretty much painted everything in our house. Some colors I love, some I am okay with, some I haven't decided. Yes, paint is an easy thing to change, but using paint samples and putting them up on the walls sure does help you get it right the first time. Now it isn't a guaranteed win (oh Mego Cave, I still don't know about your pale green-ness) but it takes away the surprise of, "What?! This paint color was totally different on the paint chip!" Hello basement and a little bit of the guest bedroom. So take the time to buy the $3 paint samples and dab them around the room. I actually did a whole post about how to pick a paint color.
4. Live with it a while until changing it. Can I just say our kitchen? Our kitchen was probably what would have been a total gut job to most of those people on House Hunters. But Eric and I decided to work with it (and within our budget too). We lived with our kitchen as is for about 2 years. You may not need to wait that long but that is what we felt comfortable with. Then everything fell into place. We got countertops, painted the walls, trash compactor, and hardware, changed out the lighting, and put up a backsplash. And then it basically was a new room. Still nothing like out of a catalog but we stand behind our beautiful, real wood cabinets. After we made all those changes we realized we LOVED the wood cabinets. They suddenly had a new glow to them, and they look more modern in our eyes. So yes, if we had totally gutted the kitchen we would have a brand new kitchen we love.  Instead now, we have an older kitchen that we completely love that fits in with the house perfectly. Nor did we have to shell out tens of thousands of dollars for it.
Before:

After:

5. Have a lightbulb moment! As you perhaps could tell from the last item, lighting is all important to me. It can completely change a room. It changes how it looks, how everything else looks in it, and the atmosphere of the room. My suggestion is if you don't like the feel or even the color of a room, change the light fixture. It completely sets the tone and brings new vitality to a room. You can definitely tell in our kitchen, our bathrooms, and I cannot wait to make it happen in the Mego Cave.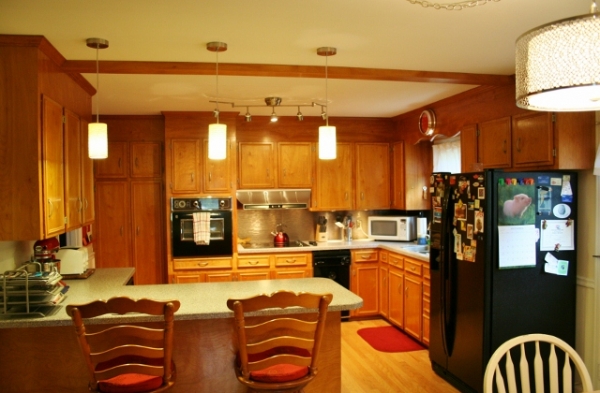 Well there you go, my first five on "Things I Learned". I could have kept going on writing, but you perhaps could not have gone on reading. Since this really is a learning process, I will share more lessons and stories of things I learn along the way! Anyone else want to share what they have learned?