The kitchen is done! The kitchen is done (for now)! Yahoo! It all began with this kitchen and this list:
Put up under mount cabinet lighting

(shown in the backsplash post)

Paint all hardware and hinges
Look at that beautiful crossed off list! Now, let's be realistic, every room has its neverending list of little changes and updates, but the big ones are done. Am I happy about that! I think the kitchen is probably the hardest room to renovate, since it usually is the heart of the house. It can be very disturbing to say, live without cabinet doors for a weekend or without any cabinet handles for a week. That has been how we have been living for a while. Then you put all the finishing touches on and its all worth it.
We have a big kitchen and for that I am forever grateful. It does make renovations and even small changes like hardware costly. That's wear some hard work and spray paint can save your wallet. Unfortunately for some people this is not realistic, as some hardware is undeniably outdated and shouldn't be rescued. Thankfully, our hardware was a simple, classic shape.Way to go past owners. Thanks for saving us a buck in the long run. I actually love the shape of the hardware. It matches our kitchen perfectly (once again, shoutout for the past owners for having good taste). If we had bought new hardware, I might have been tempted to go super slick and modern. However, that would have totally clashed with our kitchen.
I entered the world of painting hardware when I painted the random cabinet that we had between the kitchen and the Mego Cave. Fortunately, it all worked well and made me confident in moving forward with painting all the hardware. I laid out the steps a little bit in the aforementioned post, but I thought I would lay down my step-by-step for you so you can give it a go in your house!Materials needed:
Fine grit sanding blocks
Liquid deglosser (I used Next)
Lint free cloths
Styrofoam
Your favorite spray paint (I used Rustoleum's Satin Nickel)
1. Take down all the hardware. For low impact in your living style, set aside a weekend for this project. Then you don't have to live without handles for a week. It will save you many broken fingernails. Tip: Put a piece of painters tape with a number on each cabinet and then another piece with the corresponding number on the cabinet. Then you know exactly where each door goes.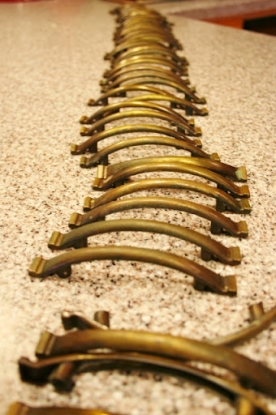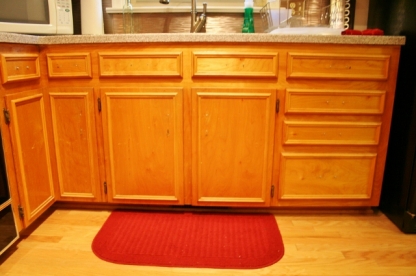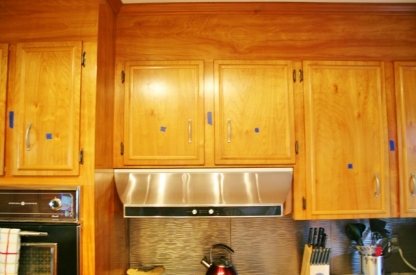 2. Time to get down and dirty…well only if your hardware are as old and dirty as ours! My hands turned black as the hardware got more golden. To clean off all the years of debris and to make a good surface for the paint to stick to, I used fine grit sandpaper to clean it off.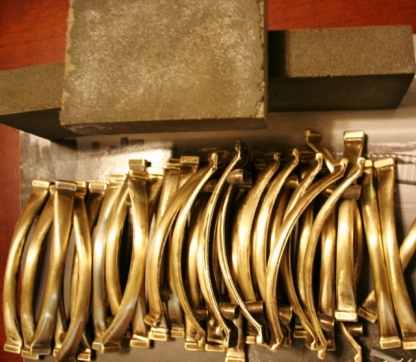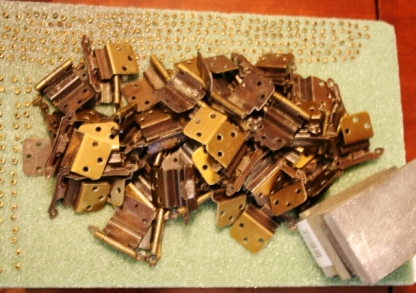 3. Clean off the hardware with the liquid deglosser and lint free cloths. Let dry (it doesn't take long).
4. Time for painting! Set all the hardware out. I spaced them as close as possible but with enough room to allow me to maneuver around them so I could get all angles. I found that putting them close together allowed me to make the most of the spray paint since these were smaller items I was painting. As for how to paint screws without messing up the threads, I stuck them in Styrofoam. This allowed me to get the tops painting (which are exposed in our cabinets) and allow for full functionality. Spray with light, even coats. Allow enough time in between coats for drying and flipping. Here's a tip: if spray painting on a plastic drop cloth, don't spray the different coats in the same area. Unfortunately when I flipped them it the first coat peeled off the plastic and stuck to the hardware. Not a fun cleanup on that one.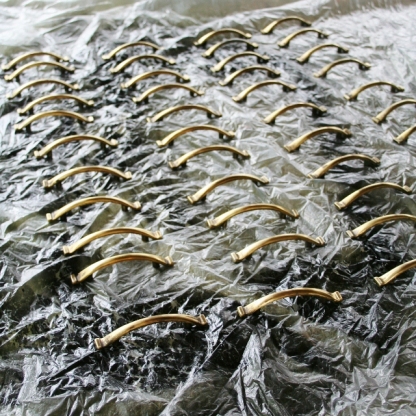 5. Let them dry. I gave them at least 24 hours.
6. Time to install! You're done.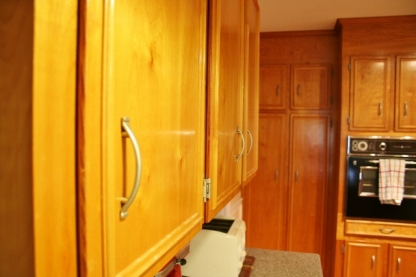 Check out this test I did before (snagging one from the white cabinet) to make sure I liked the end result. What a difference!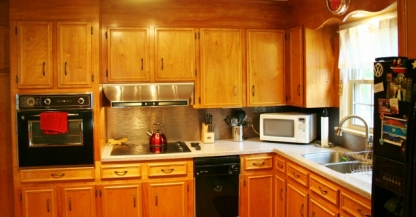 Now here are some more close-up shots of the finished product.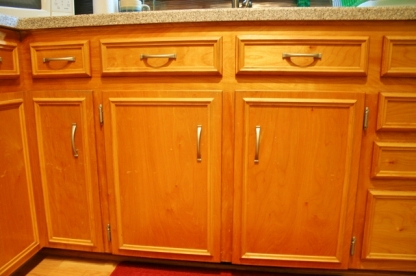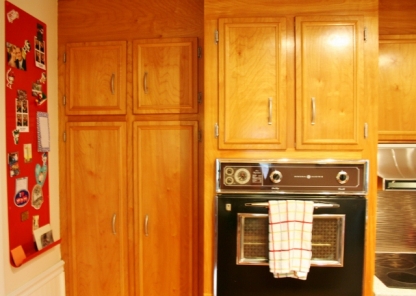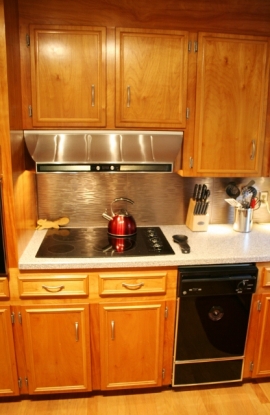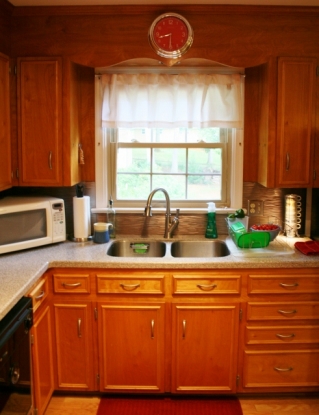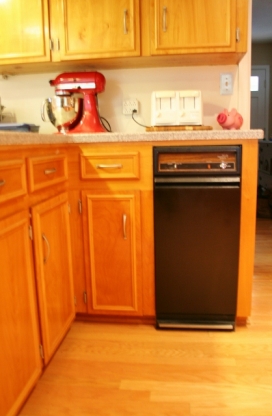 Wow. So easy and simple to write, and actually to do. It just takes time. It is so worth it though! This project saved us HUNDREDS of dollars, which is what we priced out new hardware for all of those cabinets. Not to mention, we have exposed hinges that would have been a nightmare to try and find new ones that fit the same dimensions. Otherwise we would have had to figure out how to drill new holes without wrecking our cabinets.
I love, love, love the finished product! I feel it is the icing on the cake of our mini kitchen reno and really provides a nice, modern pop on each cabinet. Wanting to see the whole kitchen in all its final glory with the changes we have made? Check back on Friday where I do the whole run-down, complete with all the before and afters!