Alright! We have made it to the end of the house tour posts! Our final post has a reason for being last. Do you have a space in your house that has no real purpose and is the catch-all space for just random stuff? Well that describes perfectly our "carport room". Why is it called the carport room? Well, it used to be a carport that the previous owners converted to a finished room. Aren't we brilliant with naming things? [Sidenote: Eric and I joke that our first born will just be called Boy One or Girl One, as we like to name things simply. For example my stuffed animals (yes, I still have them and love them) are called Dolphin, Brown Bear, Turtle, etc. No more explanation really needed, is there?]
So our carport room is one very long room (enough to fit a car obviously) that is attached to our kitchen/living room.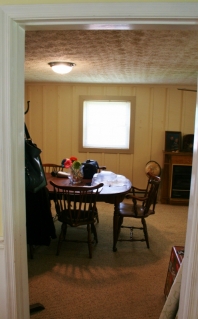 As you can see, it acts as a formal dining room. Aka, a room that we don't often use since we aren't the formal dining room people all that much. Actually, from what I hear and see in my own life and on HGTV I don't know many people who are. If you are one, please let me know how to get more use out of mine! Also, for you to really see how this room is purposeless thus far, I didn't pick up after ourselves. This isn't the easiest thing for me to put that out there since I am Ms. Organization. So let me take you through our room that has no purpose.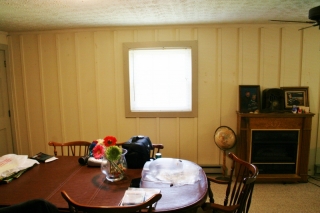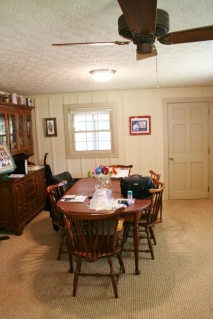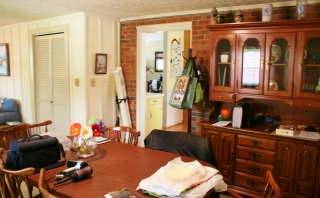 As you can tell from the state of our kitchen table it serves more as a craft table, RC car work area, fabric holder, hair dryer holder, etc.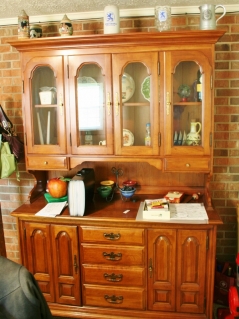 This is a beautiful cabinet that we were handed down from Eric's parents. We don't have anything fancy that goes in there but its drawers do serve as great storage for craft supplies, stationary, extra kitchen stuff, etc. One day maybe we will use it for its purpose. This picture also shows one of the favorite parts of the room: the exposed brick wall. When the room was finished from a carport, this wall was left with just the external brick of the house. Love it!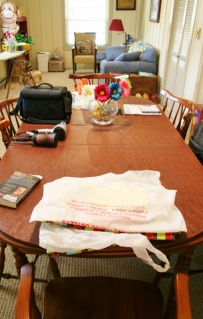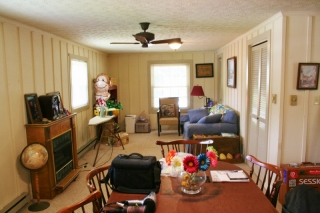 See how long it is? Long rooms can be challenging to stage, hence the modge podge of the room.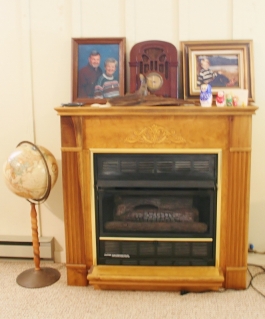 This is a moveable gas fireplace also put in by the previous owners. It is not really our style, so it is on its way out. It works and gives out great heat, but is taking up valuable wall space. Actually, at this moment, Eric and my father-in-law are disconnecting it from the house. Contact me if you would be interested in buying it!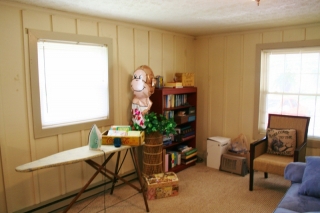 So here is the other side of the carport room. This is where the Goodwill piles go, the large recycling pieces go, where we do our ironing, and random monkey balloons (still hanging in there from February!) live.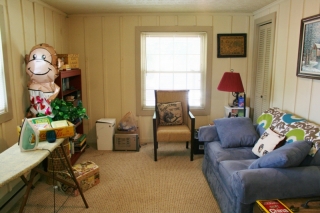 Pay special attention to this area below. See that beautiful fabric draped over the couch? That is the beginning of this room's makeover. Stay tuned for Wednesday's post to see what happens with this fabric!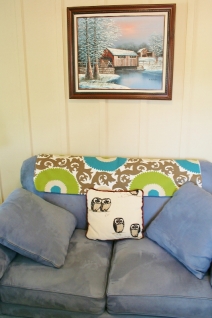 Now here is Eric's area that has lots of tools, RC car stuff, car cleaning supplies, etc. What was I saying about this room having no purpose? Look at all junk stuff we have in here!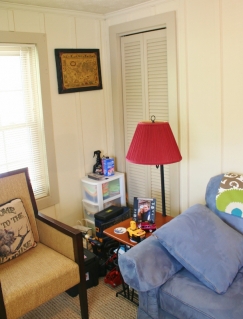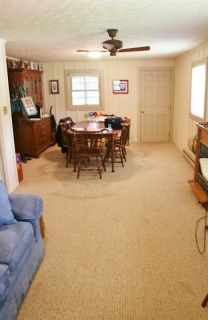 So there it is folks! The final house tour room! It lools like a hot mess but really all I see are endless opportunities! When at one time all I saw was a long narrow room that had no purpose, now I see what will be the future….Mego Cave! Yup, there are man caves and there are even mom caves now, but I will be introducing the first ever Mego Cave! I will leave that for another post, as there are many fun projects going on in that room currently, (slowly) transforming it into my Mego Cave! Can't wait to show you my progress!
Also, here is the house tour recap for you if you are interested.