Welcome to basement week. Yup, a whole week about our basement. Want to know why? Because I spent this weekend rolling on a coat of paint and trying to reorganize the mess down there. So I am excited to share this improvement with you, but first we need to know what it looked like before. You saw a sneak peak before when I showed you the curtain transformation. So I will continue with the house tour and the second post of the week will be of the redo. Also, I am being very honest in this post, as you will see when you see the massive piles and clutter. As a very neat person it is hard to show you this, but until recently the basement has been our old furniture breeding ground and place to pile things. Don't believe me? Well, I am getting ahead of myself. Let's start at the very beginning, it's a very good place to start…(name that tune!)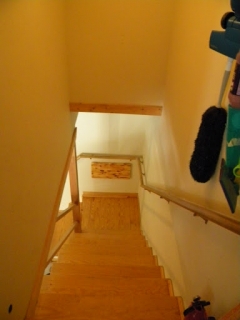 Now, what you walk into. A lot of furniture piled into a small space but you haven't seen anything yet. This is probably the cleanest looking part.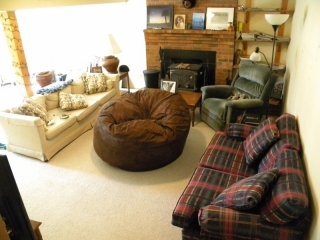 Now aren't you thinking, OH MY GOSH what is that hideous plaid couch and that delicious looking round chair?!  Well the couch, love seat, and recliner are the old, hand-me-down furniture I mentioned before. A bit of a mismatch but still very functional and comfy. We still love the couch and its lines. The love seat will get a face lift with a slipcover and the recliner will find a home with a family friend sometime soon. The centerpiece of the room is the amazing comfy sack (yes that is the official name. Find them here!) Yes, it is like a bean bag chair but instead filled with memory foam. It is a round little piece of heaven. We fell in love with these chairs when we visited my sister for her wedding. They had not one but two in their house. Then, just a few months later around Christmas time, an exceedingly heavy box found its way onto our porch. Surprise! A comfy sack from Jackie! It is the perfect addition to our hang out room. Just ask Eric when he hangs out down there every night playing games on….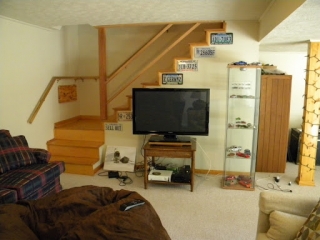 …that brand new TV that we bought (on major sale) to make the basement a better hangout. We had a HUGE AND HEAVY (did I emphasize that enough?) old TV that was about my age. You can also see some of the decorating that Eric did with his favorite license plates and model cars!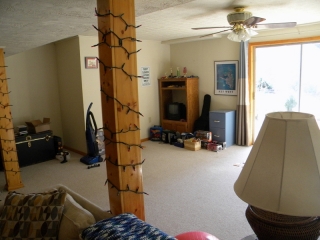 Now here is the side with the mess. Wow. At least there are pretty curtains now!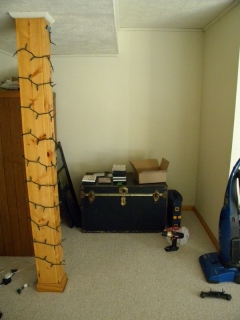 This may be my favorite part of the basement…or it will be. This is the nook under the stairs. All I see if my future nook complete with a desk and inspiration board and storage and DIY projects…and the list goes on. I am SO excited to make a space that is mine all mine!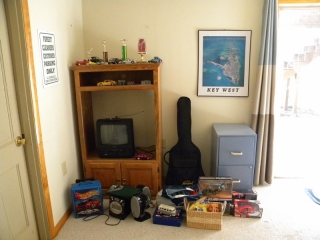 Ahh what a beautiful pile of old furniture, knick-knacks, and oh so many cars! I tried to gussy it up by hanging some of the random pictures we have onto the nails that were already in the wall from the previous owners. I don't think it helped.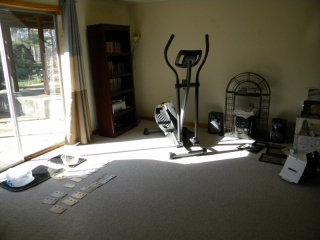 Now this is the part I use the most. My elliptical machine! It was a present to myself after college graduation, where I fell in love with the elliptical machine in the gym there. It was a steal on Craigs List.
TIP: never buy workout equipment brand new. There are always people selling almost new equipment!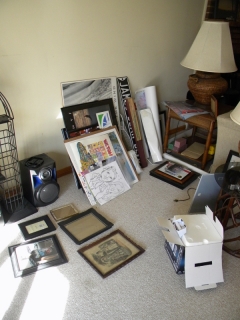 Remember those pictures I put on the wall? They came from this pile…whole lot of randomness. We try and pull it out and put it on the places we need artwork upstairs but some of it is just old.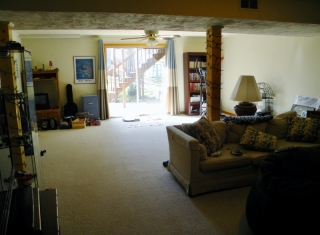 One final look at the overall place! Even though it is quite a mess, I love this space. I always pined for a finished basement growing up. Now, we have one and it is the perfect workout, gaming, hangout space we always wanted. Now, it is just time to spruce up the space. Step one, give the walls a real color to brighten up the space. Stay tuned for later this week to see the reveal. You will want to see it, because I love it!
PS: I added a new page – the "About Me" page. What do you think? I am working on adding more too!