I am back on the house tour wagon! Want to know why I am so excited to post about the guest bedroom? Because I just painted it! This is where the teaser is. These are all before pictures. Next blog will be the after pictures! So excited about this little face lift. That is for next post. Now let's take a walk through this cute bedroom full of DIY projects! It could be yours for a while if you would like to come visit! Hint, hint…
Walking down the hallway into the bedroom.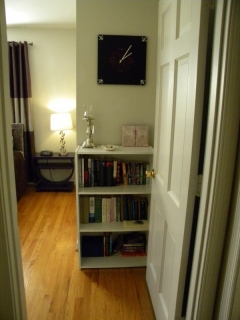 Check out this clock. It is a fun DIY project that I did with a friend and fellow blogger. She did a whole post about it (before I had a blog) that you can view here. The clock was a perfect fit for this room. Here is a close up.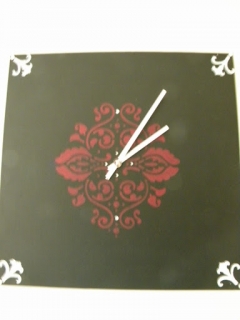 Now past the entrance into the room.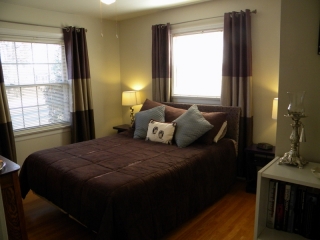 I love this room and how it gets the sun almost all day. It just makes it so nice and bright. It is also full of wonderful sentimental items that makes me love the room even more.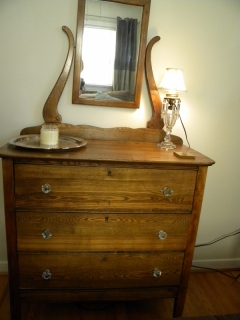 Like this gorgeous dresser right here. This is a gift from my mom when she moved. You should have seen the smile on my face when I got this gem passed down to me. I think it is elegant and classic. It also brings a something old/antique to the room. I love to mix new and antiques together!
The dresser also has some very beautiful items on it that mean a lot to me. This item is the only real silver item that I have. It was a wedding present from one of Eric's mom's friends. Not only is it absolutely beautiful, but was also a wedding present from Eric's parents to this friend. Now she is passing it down to us! What a beautiful gift.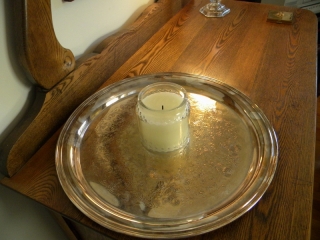 Then there is this lamp that I has had so many homes in its life. I remember it in my sister's room when growing up with a pink lampshade. Her ultimate favorite color. Then it was in my mom's house and then it was another gift to me when she moved. It is even cooler because it is an item from my great grandmother.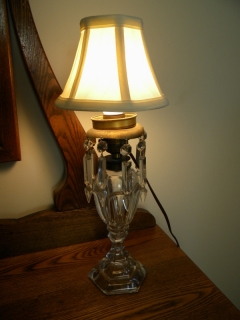 Now this item I love as well. It was my grandmother's compact that my dad salvaged for me when she passed away. It is so beautiful and always reminds me of grandma.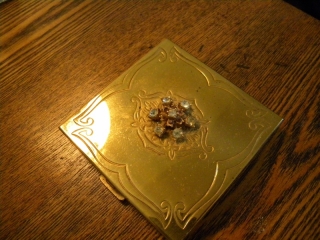 Teaser alert on this one…hopefully! This beat-up TV stand was free. I has visions of painting it a jewel toned turquoise and perhaps doing a little stenciling on it. That will probably be a summer project. This also shows a little guy we like to call "Mr. Nibbles" (can you guess that it is the shark?). What guest doesn't want a shark in their bedroom!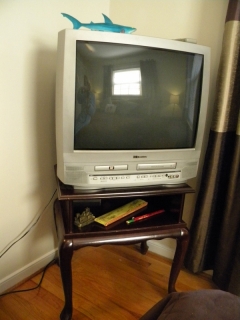 This night stand is a thrift store find that needed a face lift. One day I felt like going snooping around a local thrift store. Unfortunately I got there and they were closing in 20 minutes. So it was a quick snoop, but it gave me enough time to fall in love with the lines of these side tables. They were old brown veneer and a bit chewed, but it gave me negotiating room. I walked out with the two tables for about $20! Then with a coat of primer and then a pop of purple, voile! Purple night stands!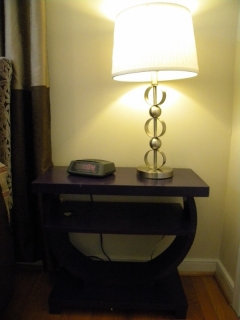 I love pillows. They are just the icing on the cake…or its translation in decorating. They are so fun to spice up a room and easily change pattern and colors without spending too much or having to redo the rest of the room. I have been trying to find the perfect pillows for this room for a while. Then my wonderful mother-in-law made this pillow with some adorable owl fabric we found at the store. It adds that perfect punch and pattern!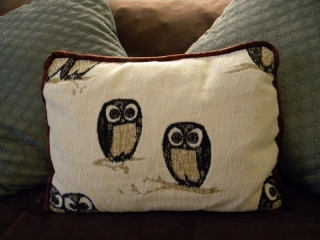 Now let's see the whole thing together again.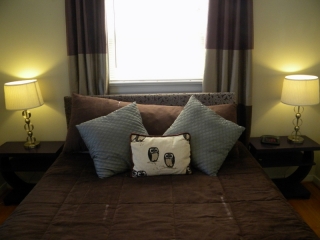 Didn't I tell you in the basement curtain project that you would see similar curtains again? I couldn't help but get two sets in different colors. I just love them!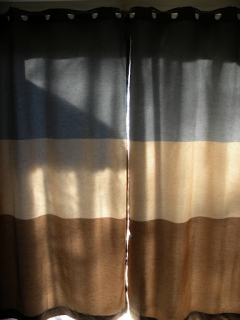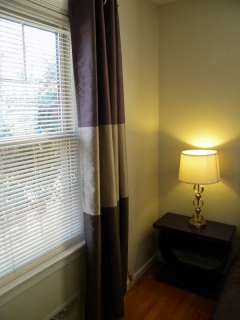 Stay tuned for the color reveal later this week!